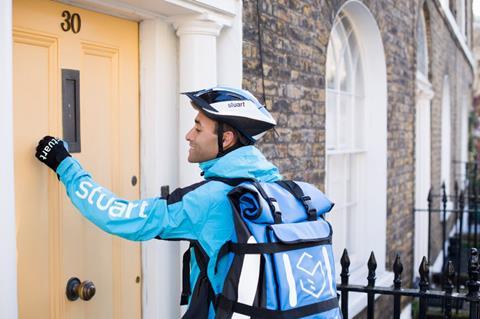 Just Eat is under mounting pressure to end its reliance on third party courier companies, ahead of a planned rider strike in Sheffield.
This weekend, riders from the Independent Workers' Union of Great Britain (IWGB) are protesting against what they say is a nearly 25% pay cut by courier business Stuart.
Stuart – which is relied upon by Just Eat to fulfil many of the takeaway deliveries ordered on its platform – is changing its pay model "to pay couriers based on the distance they travel per delivery" it says.
Under the new model, a delivery covering under half a mile would be paid £3.40, where it had previously earned the rider £4.50. The new pay model comes into effect next month, and IWGB riders have vowed to strike in response.
"We should be getting a pay rise, not a pay cut. The pay at Stuart is bad as it is," said Stuart courier Bryn Atkinson-Woodcock.
A Stuart spokesman said that less than 4% of Stuart deliveries in Sheffield were shorter than half a mile.
"The change to our pay model was made to ensure couriers on the Stuart platform will be paid more fairly based on the distance they travel per delivery," a Stuart spokesman told The Grocer.
"The new model has been developed to work for all couriers, whether they do shorter deliveries more frequently or fewer, longer trips, and will continue to guarantee pay per hour that is among the highest in the sector," he added.
But Stuart couriers in the city – who have won the backing of MP for Sheffield Hallam Olivia Blake – said they would now have to "work even harder and longer to make the same money".
They have turned their anger towards Just Eat. "For Stuart and Just Eat to drop what they're paying us is not right at all," said one delivery rider. "It is poverty pay already. With this new pay structure we won't be able to pay our bills. It's heartbreaking."
"A few years ago they were begging for drivers but now we are just being used," another said.
The planned protests come 15 months after Just Eat CEO Jitse Groen announced his intention to end gig working at his company across Europe, saying the model had "led to precarious working conditions across Europe, the worst seen in a hundred years".
While Takeaway.com has always taken on delivery staff as employees, Just Eat – which Takeaway.com merged with last year to form JET – is still rolling out the employment model.
As of April this year, Just Eat had brought 2,000 riders in-house in the UK. The number now stands at 6,000, The Grocer can reveal.
JET would not share what proportion of the total number of couriers in the UK delivering on its behalf this represented, saying it was commercially sensitive information. Globally JET has 450,000 delivery couriers, a figure that includes both contracted and directly employed riders, according to latest company figures.
It appears the UK is last on JET's country list to ditch reliance on third party delivery partners. A presentation to investors last month showed couriers in every European country JET operates in apart from Ireland and Slovakia were now all directly employed.
Just Eat is not alone in ditching Stuart's services. Ocado's one-hour delivery service Ocado Zoom had since 2019 used Stuart riders to deliver its groceries but these were dropped in the summer for rival service Ryde, and riders are now being brought in house.
Tesco's one-hour delivery service Whoosh, which launched in May, continues to use Stuart, as do similar services from Co-op and Sainsbury's.
"We are keen to maintain an open dialogue on issues that are important to couriers," a Just Eat spokeswoman told The Grocer. "We are working with our third party delivery partner and are having ongoing discussions with them on this matter," she added.