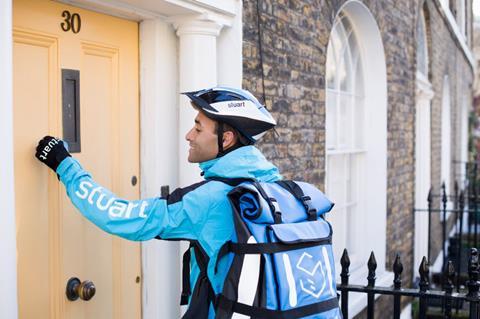 A logistics company is offering supermarkets access to 120,000 taxi drivers and couriers across the UK to get food to people's homes amid the coronavirus outbreak.

Online services have been buckling under the strain of demand this week, leaving no delivery slots available for weeks across much of the country. Ocado was forced to suspend access to its website from Thursday until Saturday while it introduces changes to cope.

The Grocer revealed on Tuesday that government and retail bosses were discussing using third party operators like Deliveroo, Yodel and DHL to boost capacity. It has been suggested that operators usually outside grocery, including taxi drivers, could step in to support supermarkets, while also making up for their own lost business as people stay at home.

Logistics software company Lineten is already set up to automatically pass on orders from retailers to over 100,000 UK taxi drivers and couriers, according to the company. Many signed up to deliver are currently "dormant" partners, providing as-yet untapped capacity, according to Lineten director of growth David Lynch.

The UK-based company currently partners with non-food operators such as fashion retailer Farfetch, as well as restaurants such as Five Guys. Until recently, Lineten also partnered with Co-op to provide grocery delivery.

Delivery partners include Addison Lee, DHL, Autocab and Stuart.

Lynch said the company was already in talks with major UK supermarkets over providing much-needed extra capacity.

"We've been reaching out to retail contacts and saying 'we've this number of fleets available at any time in all these cities across the UK'," he said.

"Most of them seem to be thinking internally about how fast they can move but for us it's a lot easier to switch something on. That's the point of a delivery management platform. I don't have to put fleets in a city. They already exist and they're connected to us.

"We are in talks to going live with three supermarket chains," he added.
After the Co-op's partnership with Lineten ended in November last year, a source at the convenience retailer told The Grocer one concern had been that taxi drivers were not accustomed to delivering food.

Lynch acknowledged that a possible reservation was that taxi drivers were used to delivering "people, not things".

However, it is argued the demand of the coronavirus outbreak will encourage greater flexibility from retailers and drivers alike.

Lynch said Lineten had already signed a number of new grocery partners in the other countries it operates in, including the US, since the start of the pandemic.

"What's really interesting is when large retailers want to move fast, they can," said Lynch.

"They've never encountered this before. It becomes just a matter of 'we just need them to get this there now'."