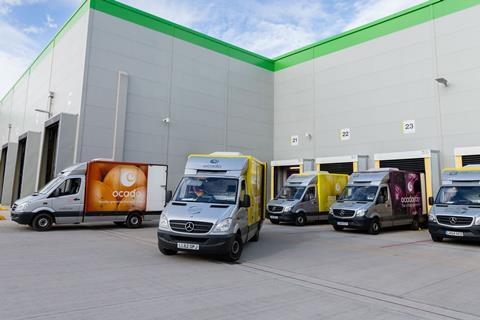 In light of the news that M&S paid £750m for half of Ocado's UK retail business in a new 50/50 joint venture, I was struck by the recent spate of collaborations and what they mean for the industry's future.
I've previously highlighted others, including Carrefour and Google or Walmart and Flipkart, in grocery and beyond. All recognise a fundamentally changed world where they can't go it alone, no matter how big.
Last month US grocer Albertsons also partnered with Microsoft for its cloud, AI and management tools for productivity, as well as product search and availability, checkout throughput and its One Touch fuel app.
Farther afield, Harrods is working with Farfetch to revamp its online store, JD Sports has raised its stake in Footasylum and the BBC and ITV are collaborating over 'Britbox,' to rival Netflix and Amazon Prime Video.
Those that were once rivals are now friends, especially when it comes to enabling more digitally enabled and data-driven capabilities, operations, offerings and insight. They are working together to stand apart.
The recent acceleration in the trend of co-operating with the competition – or "co-opetition" as it's also called – proves what I've been saying for so long, which is that this fundamental change is fuelled by the customer.
Following the customer requires that even market leaders take drastic measures. They must both keep pace with and manage unprecedented levels of change based on consumer-led technology adoption.
So, it is the case that such partnerships also carry with them high levels of risk. But how the net levels of change required and associated risk is managed will separate tomorrow's retail winners and losers.
Those collaborating to make up lost digital ground are hoping their new digital partners will afford them the opportunity to navigate this period of unprecedented change and emerge as winners.
I've overseen a number of joint ventures and partnerships in my career, and my advice is to be very careful about partner selection. Make sure partners have equal skin in the game and interests that are aligned.
Such strategic tie-ups also need to be nurtured and supported from C-suite to C-suite to ensure the organisations sitting underneath each understand what is expected of them and each other.
In the case of M&S-Ocado, my view is that the deal was the right thing to do, and I have my suspicions that everybody will be surprised at how successful it is in propelling M&S's preeminent food brand to digital growth.
Take for example the fact that 30% of UK households buy their fresh turkeys from M&S at Christmas. That's a huge endorsement of brand quality, given that Christmas dinner is often the most important feast of the year.
Consider then that the Ocado deal means those customers will now never be more than a click away from M&S the rest of the year. It's a similar argument against those who cite M&S's relatively low food basket size.
But I would question how much larger that average basket size would be if the customer didn't have to carry it home on the bus or load it into their car. The partnership will drive up basket size naturally.
In my view, pairing the best UK food brand with the best in UK online food delivery is a no-brainer – providing they can manage the risk and link up the online and offline data on who their customers are.
That way, they can be much more confident that any sales boost as a result of the joint offering is not merely substitutional, but incremental.