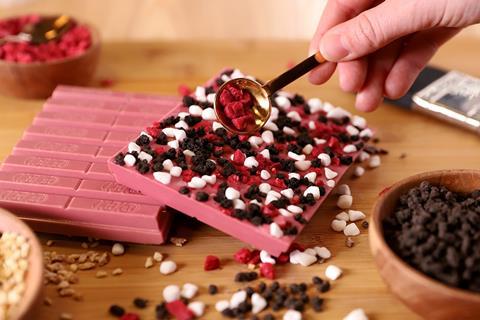 Nestlé is gearing up to launch its first UK direct-to-consumer offer for confectionery, Kit Kat Chocolatory.
The online channel will allow consumers to design their own premium, eight-finger Kit Kat, choosing one of four types of chocolate and three of 14 ingredients. They will also be able to personalise the packaging before it is handmade and delivered.
The Chocolatory's 'Create Your Break' service marked "a whole new business model" for Nestlé UK, the company said. The DTC service would be available "before the end of the year".
It will offer almost 1,500 different flavour combinations via milk, dark, white and ruby chocolate and ingredients such as shortbread pieces, salted caramel chunks, honeycomb and rose petals.
Nestlé UK CEO Stefano Agostini said: "All across our business, we are investing in our brands to develop the innovation that people are looking for. The introduction of Kit Kat Chocolatory is all about the demand for more luxury, premium confectionery and the opportunity to personalise a product, which is a trend that continues to grow and grow."
The online operation was "a very new and exciting development for both Nestlé in the UK and our famous Kit Kat brand" he added.
It will be preceded by a high street version of the Chocolatory, which will open later this week across 30 John Lewis stores until 24 December, as well as in the York visitor attraction Chocolate Story.
Shoppers will be able to create their own Kit Kat and also buy from a selection of ready-made, special-edition variants, including Whisky & Ginger, Eton Mess, Cherry Bakewell and Earl Grey.