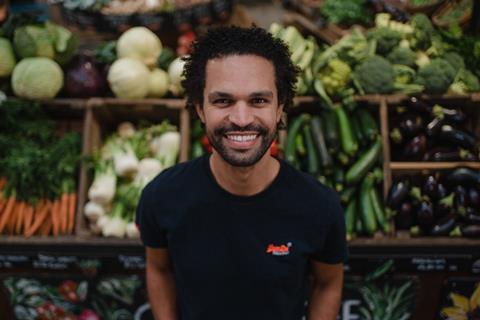 A new online meal planner and shopping platform is seeking to give users a real-time overview of every product in their kitchen, including how much is left in each packet and when items go out of date.
Lollipop – which is launching "imminently" – allows users to create weekly meal plans from thousands of recipes, and automatically generate shopping lists. The lists can be edited by users – to add other household essentials – and the items bought from within the platform from Lollipop's supermarket partners.
Sainsbury's is the first supermarket to partner with Lollipop, with users given the ability to select delivery slots via the app's interface.
Eventually, given the platform will know what you've bought, when and what meals you've made, a live view of a consumer's kitchen could be created.
"My realisation coming into this was I was starting my shop by going to my fridge and seeing what was in there," said Lollipop founder Tom Foster-Carter, former COO of Monzo Bank. "Our ambient cupboard – who knows what's in there?"
"My vision was to go into an app and see everything that's in your kitchen. That's what we're going to create," he told The Grocer.
The free app will adjust meal plans based on expiry dates, or prompt users to try recipes based on something that has sat at the back of the cupboard unused.
In the longer term, the app would serve as a social network, Foster-Carter said, with a customer's kitchen data shared with those nearby.
"If as a user I allow it, people will just know I have beef, chicken and pork in the fridge and all going out of date tonight," he said. "It's not going to be cooked, so who wants to have it? Or I want to cook something with a particular ingredient I don't want to buy a whole bottle of, so does anyone on my street have some?
"I really think you can build that with what we have, and I think people would go for it," he added.
On launch, the app will feature 'playlists' of products, which users can easily add to their shops, or share with friends. It will allow users to set health goals and dietary requirements, as well as goals to shop more sustainably.
Lollipop – whose team includes former Sainsbury's, Farmdrop, Hello Fresh and Amazon employees – expects to welcome more supermarkets on to the platform. Users will pick their supermarket up front, before they start using the app.
"I really don't want to be in the business of shifting people's loyalties," said Foster-Carter. "I just want to add to the experience. That's a commitment I'm making for good."
Several supermarkets allow customers to browse recipes online then 'add all ingredients' to their baskets. Lollipop's edge is in its user experience, said Foster-Carter, with what he called a "Monzo-ish play in online grocery".
"Supermarkets do a really good job at giving everything a crack," he said. "They will give you a version of these things. Our own partners will begin to build some of these features if they see them working really well I'm sure.
"But the supermarket game is a hugely complex task where you've got to be amazing at the whole chain. Having to create this new skillset to be amazing at UX and building tech, that's tough."
The company is focused on "building really great experiences for customers, that still shop with them [the supermarkets]" he said.
"I'm not trying to create a Lollipop shop. I don't want to go sourcing potatoes," Foster-Carter added.
From the retailers point of view, Lollipop user orders come in through their own e-commerce platforms with a full view of the customer. Lollipop handles the integration of the online propositions into the app, with the app taking a "modest cut" on each order.
Foster-Carter said part of the platform's appeal for retailers was its ability to "get consumers thinking about something other than price".
"Users start faced with a great question – 'what do I want to eat?' And soon, 'what are my goals?'" he explained. "Lollipop is about making exciting lifestyle changes and shopping as your route to achieving that.
"It's time to try to refocus the customer mindset away from ever decreasing prices by inspiring them to buy and cook more adventurous meals at home. That helps supermarkets out of the price war. Early indicators are that when people start their shopping with meals they tend to be less price sensitive," he said.