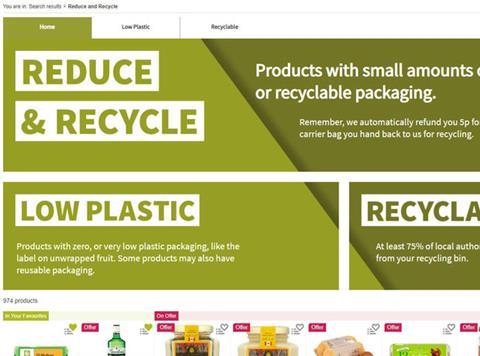 Ocado has introduced a new feature on its website allowing customers to browse only products with packaging that is recyclable or low in plastic.

Three new product categories have been added to the site, with the names 'Reduce and Recycle', 'Low Plastic' and 'Recyclable'.

The Reduce and Recycle category consists of 974 products 'with small amounts of plastic or recyclable packaging'. Low Plastic consists of 884 products 'with zero or very low plastic packaging, like the label on unwrapped fruit'. The Recyclable category includes 864 products with packaging that a claimed 75% of local authorities collect and recycle.

All three categories include branded and own-label products with glass, metal or paper-based packaging. The Reduce and Recycle and Recyclable categories include lines packaged in recyclable plastic.

Currently there's no way to search within the categories, so customers can only scroll through the hundreds of products for items they may want. The categories are also not flagged on the homepage. To find them customers must type the category name into the search bar.
The Grocer understands they are part of a number of plastic waste measures Ocado had planned to announce in a few weeks' time. The supermarket last week decided to tweet about the new categories early, before other features were live, in response to customer criticism over plastic packaging.
The other measures are set to include a plastic waste landing page with advice for consumers.

One of Ocado's tweets about the new categories said: 'We do have a dedicated aisle for items named "Reduce and Recycle". If you search this, there are 975 items so far and we are adding to this list, these items have low plastic or easily recyclable packaging and we do hope you can find suitable bits on here.'

The post was in reply to a customer who tweeted a picture of five aubergines individually wrapped in plastic. 'The amount of plastic per delivery is astounding,' the customer wrote. 'Please make a change. Two bags with only one item per bag and 5 aubergines wrapped individually. Amazon delivers in cardboard, how can you let this continue?'

"There's a suite of measures coming," an Ocado source told The Grocer. "We're busy building a landing page.

"It will be things like how you can use less plastic and some 'did you knows'.'"

The source said the supermarket was also working on an update for customers on its progress towards plastic waste reduction.

"There's a huge swathe of work running alongside [the new categories] that we're a couple of weeks from going out with."