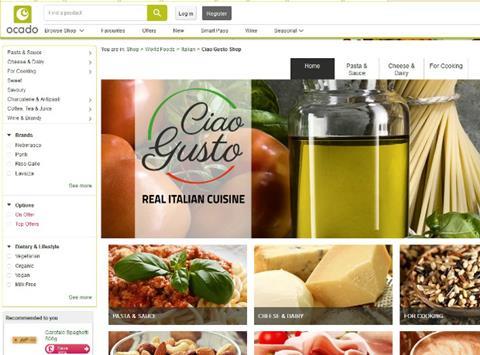 Ocado has partnered with Italia Del Gusto to launch an Italian 'shop within shop' on its website, under the banner Ciao Gusto.

The specialised section will see Italia Del Gusto, a consortium of more than 30 Italian food brands, collaborate with Ocado to offer "authentic produce". Over 300 products are set to be available, with plans for a further 100 by the end of the year.

Traffic will flow between the Ocado and Ciao Gusto sites, featuring recipes and cooking tips. The partnership is the consortium's first step in plans to extend e-commerce for Italian products.

Olive oil from Filippo Berio and rice by Riso Gallo will be among the available products, alongside brands such as Ponti vinegar and Negroni cured meat.

"The UK's online market is the most sophisticated in the world, growing at 14% year on year - significantly faster than traditional retail," said Alberto Volpe of Ciao Gusto.

"UK consumers, especially at Ocado, are renowned for their willingness to sample new products, and, with the substantial Italian expat community also looking for a taste of home, Ciao Gusto at Ocado is an exciting opportunity for Italian brands in the UK," he added.