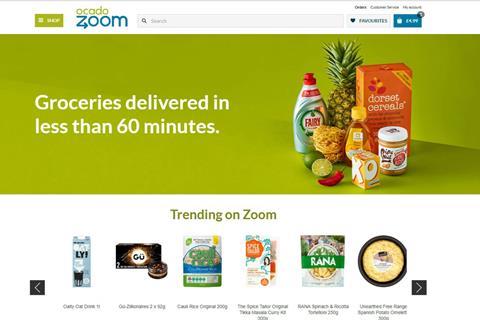 Ocado Zoom, the online supermarket's new rapid delivery service, has gone live, with orders being despatched in west London in under an hour.

As of this week, orders can be placed on a new website, ocadozoom.com, or using a new iOS mobile app.

Some 10,000 products are available, about a fifth of Ocado's total range, spanning ambient, chilled and fresh.

There are 18 categories, including veg, meat & fish, dairy, ready meals and alcohol.

The orders are picked from a site in Chiswick, which is replenished by Ocado's 530,000 sq ft automated customer fulfilment centre in Erith.
From Chiswick they are delivered to customers' doors within a three-mile radius by third-party courier firm Stuart, in under 60 minutes from orders being placed.

The minimum order is £15 and there's a £1.99 delivery charge.
"Ocado Zoom allows customers more freedom, less planning and no last minute trips to the shop," said Hannah Gibson, head of channel development at Ocado.
"Zoom will be able to deliver everything you need for dinner, baby products and even a weekly shop in less than an hour, but what sets this service apart from our competitors is the substantial range of products available. With over 10,000 items, Zoom's offering is considerably larger than you'd expect to find at inner city supermarket shops, convenience stores or corner shops.
"You can cook prawn tacos for dinner if that's what you fancy, and have your favourite granola delivered at the same time."
The service was first announced by Ocado CEO Tim Steiner on 5 February, the same day a fire tore through the retailer's Andover CFC, ultimately destroying it.
At the time Steiner said Ocado Zoom used a "unique model with micro-automated centralised fulfilment, being fed itself from our large-scale automated central fulfilment".

He said it would go live the following month, making its launch slightly ahead of schedule.