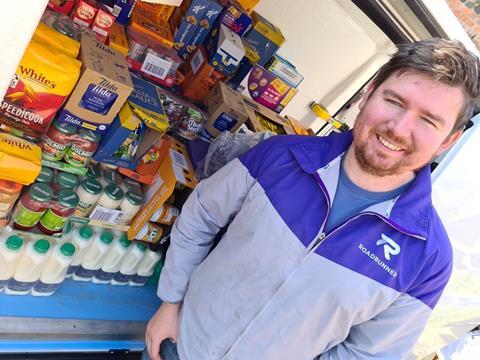 Two-hour grocery delivery service Roadrunner is securing a second dark warehouse as part of its expansion plan for Northern Ireland.
Roadrunner launched in August 2020 – its debut brought forward to capitalise on demand for online shopping as a result of the pandemic – in Newry, County Down.
The service, which operates from a 3,500 sq ft unit, offers around 800 SKUs, which it sources direct from food suppliers, local bakeries, butchers, fishmongers and fruit & veg merchants, as well as artisan suppliers and brands.
"We are passionate about supporting local food suppliers, which is why our business model is to partner with local suppliers rather than multinational chains," said Roadrunner founder Eamon Breen. "We believe customers want to support local suppliers and the suppliers are extremely keen to have their produce delivered. This allows them to compete with larger chains and guarantees quality for our customers."
The service's delivery fee is £2.99. Drivers are employed on a full-time basis.
Despite presenting itself as a two-hour service, Roadrunner typically fulfils orders within 45 minutes. It is soon to open a second site in Belfast city centre, with plans for further expansion into Dublin's suburbs.
"As we expand into higher density areas we will be delivering in under 30 minutes, which will be one of the fastest delivery services in Ireland," Breen said.
The company is currently recruiting for two board members to join its founding team and is planning a fundraising seed round in early summer. "This will enable us to expand throughout Ireland," Breen added.
Recent months have seen a slew of rapid grocery companies launch in the UK, promising deliveries in as little as 10 minutes, among them: Gorillas, Getir, Dija, Weezy, Zapp and Fancy.
While their focus has initially been on London, given the density of its population, they are increasingly launching in major cities beyond the capital.
Breen expects demand for the service will sustain beyond the pandemic.
"Demand has been amazing and we have great customer retention," he said. "Our customers love our range and the convenience which we offer. I believe customers have seen the benefits of online grocery delivery and this sector will only continue to grow."