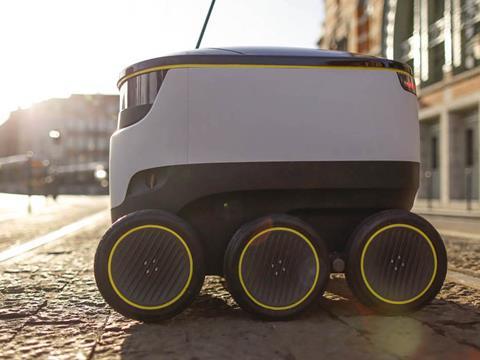 A company using autonomous robots as on-demand couriers is planning to expand the service "around the world".

Starship Technologies offers to deliver for any online retailer. Customers use a Starship address instead of their own when shopping online. When the purchase arrives, the Starship informs the customer, who can then arrange delivery by a robot at a time that suits them.

The Grocer revealed last month that Starship had launched the service in Milton Keynes by invitation. The company has also been offering rapid grocery delivery in the area from a Milton Keynes Co-op since April.

This week, Starship extended the new service to the public and said the ambition was global expansion. "Consumers around the world will never miss a home delivery again," said a spokesman.

"In what is the world's first commercial offering of autonomous package delivery on the ground, hundreds of robots will be delivering packages straight to people's front doors," said a spokesman.
The service is available through Starship's iOS and Android app. It is free for the first month, after which there is a £7.99 monthly subscription fee, including unlimited deliveries.

"The hassle of needing to re-arrange your life for a delivery will become a thing of the past," said Starship chief executive officer Lex Bayer.

"Consumers are in control - they choose when an order comes to their door and there's no need to use a locker service to collect."

The spokesman said social media marketing would include the message 'Hey, no fridges and wardrobes, guys,' to discourage orders of items too large for the machines, which could carry up to 12kg.

But he said any oversized items would be "hand-delivered if necessary".

Starship charges £1 for its local Co-op deliveries. The spokesman said that was also close to being expanded with the addition more grocers, but did not give a more exact timeframe for the rollout of either service.