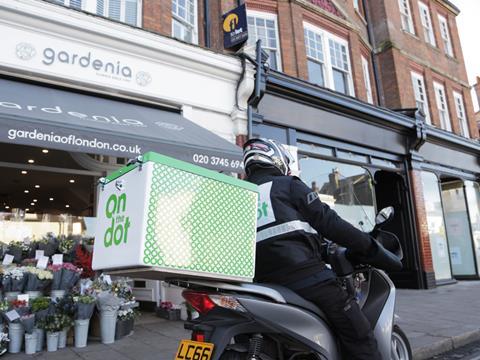 National third-party delivery company On the Dot is moving into grocery for the first time in partnership with a "major supermarket".

The rapid delivery logistics company, a subsidiary of City Sprint, will start fulfilling orders for a "few branches" of a leading supermarket, covering three postcode areas in central London from the end of July, according to the business's CEO Santosh Sahu.

On the Dot already delivers for non-grocery retailers and takeaway restaurants nationally, with partners including Dixons Carphone, fulfilling orders for each of the electrical chain's 250 branches. Other partners include Wickes.

The company has the infrastructure to deliver groceries within 90 minutes to 88% of the UK with sufficient store partners, according to Sahu.

He hopes the pilot in London will lead to a national rollout with the partner.

"We can bring Amazon Prime-type rapid delivery experiences to the grocery market in the UK," he said.

Orders are placed using an iPhone or Android app and can be delivered on the same day within a one-hour slot of the customer's choosing.

Orders are usually picked by store staff and delivered within a radius of up to 10 miles depending on area. In the London pilot the radius will be up to three miles from stores.

"We are promoting convenience," said Sahu. "If I want it in 90 minutes I can get it, but why not get it delivered on the same day in a time slot that works around me?"

City Sprint Group had invested £20m in On the Dot since the subsidiary was founded in 2015, he added.