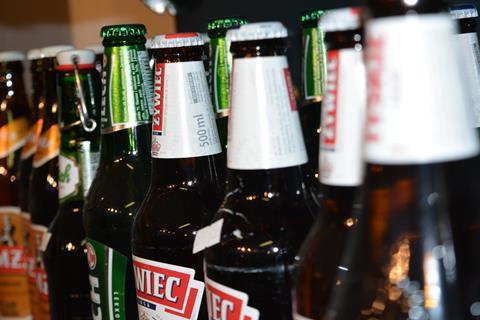 Only one in five 18 and 19-year-old mystery shoppers were challenged when buying age-restricted items through courier companies

Serve Legal said there was an issue with some shopping apps "providing a proxy purchase route for minors"

Deliveroo said it didn't recognise the statistics in relation to its business and had "robust and strict" processes in place
The proportion of teenagers being asked for ID at the doorstep after buying cigarettes and booze online has fallen 15% since April, according to data from Serve Legal.
The compliance rate of deliveries of age-restricted products had been improving and in the first quarter of this year hit a record high of 75%, following a concerted effort by retailers to clamp down on the issue.
But an influx of third-party courier services delivering from supermarkets and convenience stores, as well as serving alcohol-focused apps, has halted the trend, Serve Legal's findings suggest. The issue is further confounded by the requirement that rushed delivery drivers and riders socially distance, the retail age-check company added.
The compliance rate is particularly poor among the courier companies tested. Serve Legal audits of the delivery firms – which have secured copious supermarket and convenience store delivery deals in recent months – show only one in five 18 and 19-year-old mystery shoppers are challenged when buying age-restricted items delivered by the firms.
"There has been an increase in partnerships between retailers and delivery companies recently and performance is worse in general by these third- party companies," said Serve Legal director Ed Heaver.
"As new entries to the online age-restricted sector, they may not have the established processes that larger online retailers and supermarkets have and, with a focus on ease and speed of service, their societal responsibilities to preventing youth from gaining access to products and the law may be overlooked," Heaver added.
An emerging issue is the rise of shopping apps where items are bought from retailers without their knowledge, Heaver added, which are "providing a proxy purchase route for minors".
"Retailers need to be careful as there is potential for reputational damage," Heaver said.
The increasing compliance lapses come as digital grocery sales surge. Online grocery sales increased by 75% during lockdown, according to latest Kantar figures [12 w/e 17 May 2020], meaning online shopping now accounts for 11.5% of all grocery sale
"As the sector grows rapidly new entrants need to make sure all their processes and procedures are spot on so they can clearly demonstrate great compliance. Extra care should be taken by the new delivery drivers required to meet the demand," Heaver added.
Between 2013 and 2018, less than half of teenagers buying age-restricted items online were asked for ID when receiving them at the door. The compliance rate improved to 67% last year. Uber Eats – which offers a huge selection of alcoholic drinks from convenience retailers on its platform – tells its riders to "verify age or identification where necessary, and follow any steps set out in the app,and return undelivered alcohol to restaurants". However, in the US an April Washington Post report detailed how the platform had "turned into a rogue cocktail bar".
Deliveroo – which has partnered with several supermarkets and convenience chain in recent months – said it didn't recognise the statistics in relation to its delivery business. It said it has "robust and strict" processes in place to avoid selling age-restricted products to customers who are under 18 and a rider's failure to check ID is considered a breach of contract.Last month California's Department of Alcoholic Beverage Control published findings of its investigation into underage alcohol sales over delivery platforms, which said its "recent enforcement actions have revealed that third-party delivery services are routinely delivering alcoholic beverages to minors".