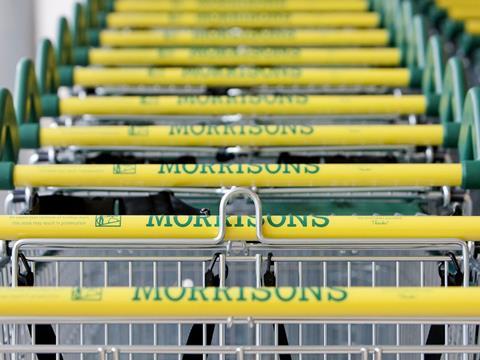 Today's new deal between Morrisons and Ocado, which will see the online specialist develop a nationwide store-picking model for the supermarket group, looks like another canny piece of business by Morrisons chief executive David Potts.
Potts, along with the Morrisons brains trust, which includes his former Tesco colleagues Andy Higginson and Trevor Strain, has managed not only to stop the rot since joining last year but also now looks to be driving the business forward.
At every turn, he has taken clear and decisive action in terms of turning around the core supermarket business and being prepared to jettison anything he saw as a distraction from this mission.
A clear example was the way he got shot of M Local despite convenience being seen as a key growth market for UK grocery. Potts' view was simple – the stores weren't working for the business, so out they went.
This swift action prompted many to assume he would deal with online, and in particular the deal with Ocado, in the same manner. The prevailing school of thought was Morrisons had overpaid for the deal - and that with the current Customer Fulfilment Centre supply arrangement meaning it had limited reach across the UK, Potts might look to walk away.
This simply would never have made sense. Online is an area that will grow and grow, and down the line even Aldi and Lidl will feel the need to add this string to their bows. So for Morrisons to walk away from Ocado at this stage would have been a massive mis-step.
Just like the football fans calling for the head of their team's underperforming manager, the key question should always be: can you think of anyone who could do a better job? In this case the answer is no. It simply would not be possible for Morrisons to build- up an online grocery offer from scratch to the high standards Ocado has provided. And there isn't any off-the-peg solution to buy. So it was always going to stick with Ocado - but, equally, it wanted a better deal, and today it got it.
Ocado is setting to work on the store-picking model, which will allow Morrisons to provide an online grocery service across the country, while Morrisons won't have to share its profits, and will pay less in terms of R&D costs. It has also inserted a new five-year break clause in its agreement to lease 30% of the capacity at Ocado's new Erith CFC.
It is hard not to think that Morrisons' recent cosying up to Amazon has played a part in it being able to flex its muscles a bit more at the negotiating table – but, equally, while this certainly looks like a cracking deal for the supermarket, that isn't to say Ocado can't do well out of it, either.
At the end of the day, it needed Morrisons to commit to supporting the Erith project. And having a live guinea pig to prove it can deliver both in terms of warehouse distribution and store-picking could be the catalyst it needs to really sell its technology internationally and, intriguingly, potentially to another customer in the UK. The deal bars Ocado from striking up similar partnerships with Tesco, Sainsbury's, Aldi and Lidl but not Waitrose, M&S, Iceland or the Co-op.