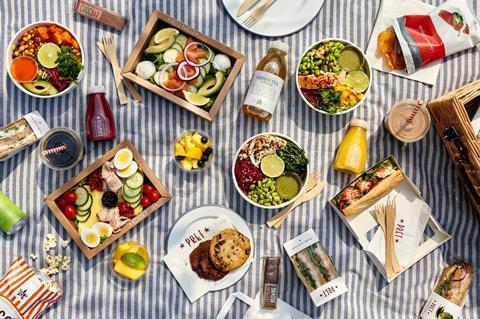 Pret a Manger is trialling an evening dinner menu for delivery in an effort to tempt consumers looking for healthier options.
'Dinners by Pret' will start deliveries of an evening menu on 7 July from seven shops in London, Nottingham, Cambridge and Bristol, as well as from a new hub kitchen in north west London.
The evening menu will feature a range of exclusive new items, including four freshly made salad bowls and hot meals such as lasagne mac & cheese, fish pie mac & cheese and a butternut squash & cali gratin.
The fast food chain is also launching its new summer menu at selected sites across the country, offering a lobster roll and jambon beurre, as well as a range of salad bowls.
The full summer menu will be available in shops for takeaway, eat in or delivery from 7 July.
The new menus are the latest initiative to get customers returning to the beleaguered chain, which has been hit hard by the coronavirus lockdown. Its traditional customers mostly visit stores for lunch, but with large parts of the population working from home, footfall at the business has fallen dramatically.
Last month, Pret hired a team of consultants to overhaul its business model in the face of serious disruption caused by the pandemic.
The chain has reopened more than 300 shops across the UK, including all 10 of its Veggie Pret sites, and has launched a click & collect trial with Deliveroo at five London outlets.
On 4 July, Pret will open seating areas within shops for customers to eat inside as the latest easing of lockdown comes into effect.
The new evening delivery is available at shops in:
93-95 Broadmead, Bristol
22 Market Street, Cambridge
10 High Street, Nottingham
Kingsland High Street, Dalston, London
3 Mitcham Road, Tooting Broadway, London
35-37 King's Road, Chelsea, London
120 Notting Hill Gate, London (launching later in July)