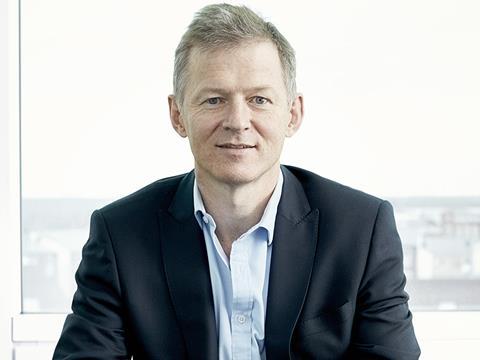 When Ocado announced its annual results this week, the lack of update on an international deal dominated the press coverage. But there is also plenty to say about the retailer's performance and prospects in the UK environment. Chief financial officer Duncan Tatton-Brown reveals how Ocado plans to compete with super-speedy delivery companies and why he isn't worried about Morrisons' tie-up with Amazon.
Your active customer base grew by almost 14% over the past year. To what extent do you think the online grocery market can continue to grow?
Well I think the online grocery market is a channel in which companies are growing and growing. I'm not aware of another online grocery business that's not growing at all, or at least no-one is going backwards. IGD is forecasting that online grocery will grow by 68% over a five year period, so it is a growth market. I think the majority of our growth is coming from people switching from bricks and mortar to online grocery, although we are gaining share in the online market. I we think we are doing pretty well because online is our main focus.
You named deflation as a factor in the 2.7% decline of your average basket size. For how long do you think the industry can maintain falling prices?
As you will know groceries are being sold at a lower price this year than last year, we would estimate about 2% lower. I think absolutely this will have to change. I don't think the industry can absorb price increases as costs are growing. But whatever happens, we have the ability to cope with it because we are growing so much faster than the others and becoming more efficient through the use of technology.
You announced the development of a new fruit picking robotic arm this week. How important is technology like this to you?
That kind of technology could be very significant; it's an illustration of the type of innovation that is coming. A more important thing is what we are already doing in our Andover warehouse. In our new facility, we can pick a customer's order in about five minutes rather than two and a half hours. We can achieve these benefits are because we have 750 people working in our technology team and over 200 qualified engineers. We're investing today to make the platform better for the future.
What do you think of the emerging trend for express delivery of groceries, for example Sainsbury's Chop Chop service and independent businesses such as Convibo? How important will this be and can Ocado compete?
There will always be people trialling and testing things. I think that change in the market is a threat, but mostly to the people who have lots of stores. We have always built our business on how we can use technology and innovation and automation, so we think we are well positioned however the market moves.
We already offer a same-day service and have done for years. And as I've already said, we have created the ability to pick orders within five minutes so that will reduce lead times and we will look at other ways of getting the product to the customer in different vehicles, perhaps. I think today express delivery isn't critical but in the future it may become critical. We see that as an opportunity rather than a threat.
How are things going with the Morrisons store picking solution? We know it is due to go live sometime this year – can you narrow down the timeframe at all?
We won't give any more specific timings because when it will roll out is a decision for Morrisons. Operationally, they need to get things ready for the software, but it should be ready this year. I can reveal that we are in live testing – it's not open to customers but you can actually order things using the software platform.
How do you feel about Morrisons' growing relationship with Amazon?
It's a sign that online is the channel where people are investing most of their effort and resources because that's where things are going. We're always going to eat groceries but for most people buying groceries is more of a chore than a real pleasure. So the more you can help them do that, the better.