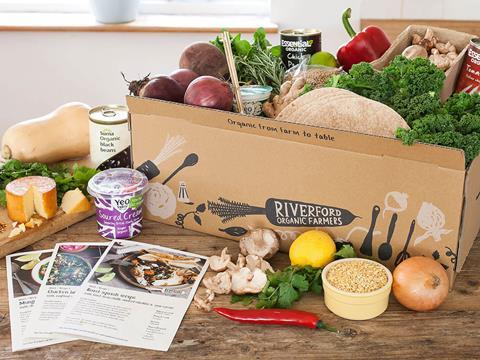 Riverford Organic Farmers has added a light option to its range of four recipe boxes.

The 'quick and light' boxes contain two meals, each with fewer than 500 calories that take no longer than 30 minutes to make.

The recipes include lentil koftas and cauliflower couscous with almonds and sheeps cheese, paprika steak with broad bean and quinoa tabbouleh, and roast asparagus, spinach and barley with poached egg.

The new product comes in addition to its four existing recipe options: quick, vegetarian quick, classic and vegetarian.

"Our new box is perfect for those who are short on time to shop or are stuck in a recipe rut and want to eat balanced meals which celebrate the best of what's in season," said Guy Watson, Riverford founder and farmer. "At Riverford we're all about living life on the veg - these boxes help you to do just that."

Riverford launched its recipe box business in 2014 and sold 1,100 boxes a week last year. It is not known how much of its sales come from recipe boxes, but the company said they were a "big contributor" to its 31% sales growth to £58m for the year ending 30 May 2016.