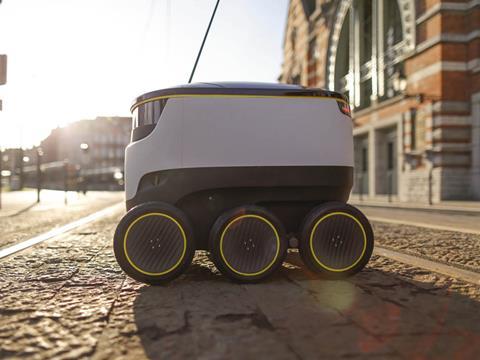 A robot grocery delivery operation in Milton Keynes is to extend its range and add services by the end of the year after major investment.

Starship Technologies, which has been delivering groceries for the Co-op in Milton Keynes since April, has raised $25m in seed funding and appointed former Airbnb business development lead Lex Bayer as CEO.

The San Francisco headquartered business plans to use the investment to deploy the robots in towns, universities and office parks in Europe and the US, with the Milton Keynes grocery trial to grow within months.

A spokesman said the current service range of up to two miles would be extended, new products offered and potentially new retailers added to the operation.

"We're looking at laundry, we're looking at takeaway foods, we're looking at parcels, all sorts of things like that," the spokesman said.

The robots had been fulfilling orders from a Monkston Co-op branch in as little as 15 minutes within the current two-mile service range, and could go up to three miles still well within the maximum hour wait time, he said.

The range of Co-op products available to order on a smartphone app - currently about 200 excluding cigarettes and alcohol - would also be extended by the end of the year.
Customers pay a £1 delivery charge and the usual store prices for products, which are bought by a human picker working for Starship and placed into the robot for its unaccompanied journey. The goods go in a compartment which unlocks when the customer confirms arrival using the app.
"The trial has been incredibly successful and we're looking to grow the service area and offer more products to the local residents as soon as possible," said the spokesman. "We have orders every day. It's like the robots are part of the community, which is exactly what we wanted to achieve."

The $25m includes investment from Airbnb co-founder Nathan Blecharczyk, Skype founding engineer Jaan Tallinn and former Metro-Goldwyn-Mayer CEO Gary Barber. It also includes follow-on investment from existing backers Matrix Partners and Morpheus Ventures.

Bayer said: "I'm delighted to join the Starship team at this inflection point in the company's journey and look forward to helping the business build on its position as the world's leading provider of autonomous delivery.

"This additional funding will allow us to deploy our robots in neighbourhoods as well as corporate and university campuses in the US and Europe."