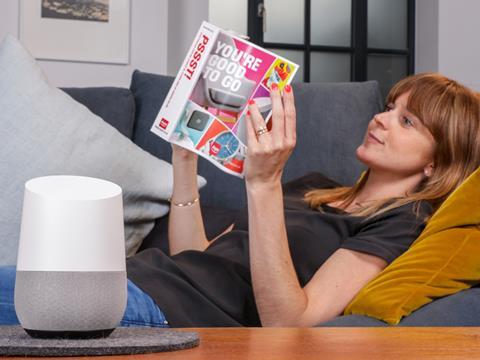 Sainsbury's is looking to follow Argos by launching voice shopping, the supermarket has said.

As of today (7 September), Argos shoppers can reserve products for click & collect by talking to Google Assistant, available on Android phones, iOS or smart speakers such as Google Home.

Unlike any other Google voice shopping service available in the UK, it does not require the installation of any other apps. Asda's Google voice shopping service, for example, requires users to install the retailer's app, while Tesco's requires a third-party app.

To use Argos' new service, called Voice Shop, customers only need to say "OK Google, talk to Argos," and the device will respond, "Alright, getting Argos."

Argos owner Sainsbury's is the only one of the big four to not yet offer voice shopping, with Morrisons offering it though Amazon's Alexa.
A Sainsbury's spokeswoman said that the supermarket was monitoring feedback on Argos' Voice Shop with a view to offering its own service for home delivery.

"It's definitely something we're looking at more generally from a group level," she said. "We're going to be seeing what customers say about it and gathering feedback and that will guide us on how we take it forward."

Announcing Voice Shop, John Rogers, Argos chief executive officer, said: "Voice technology has the potential to revolutionise how we shop in the future. Digital home assistants have soared in popularity over the past year and people are increasingly looking to their smart devices to help with the smooth running of their lives.

"Argos is a digitally led business at the forefront of technology and it's really exciting that we are harnessing the simplicity of voice ordering with the convenience and popularity of click & collect to make our customers' lives easier. We predict that the Voice Shop service will be a big hit and we will develop and refine the offer further as we get feedback from our customers."