Online grocery has boomed during the pandemic, but discounters still have little online presence – could this be a huge missed opportunity?
Why not make life easier for me and others in the UK going through a crisis right now?" asked the pleading petition created by single mum Shannon Read at the start of lockdown. "It will be worth it; you'd make a lot more money from those who can't leave their home."
The Change.org petition called on Aldi to venture into territory that it has purposefully avoided until now: online deliveries. Within a few days, it had gained more than a thousand backers.
Their plea has been answered – to a degree. A £24.99 food parcel launched in April to serve vulnerable customers. That was swiftly followed by a deal with Deliveroo, which enabled a handful of towns across the UK to get Aldi products delivered to their doors.
But both initiatives are little more than tentative toes in the water, highlighting the ongoing reticence among discounters to go online. It serves as a stark contrast to the transformational ramping-up of online services that has been happening at their big four rivals.
The millions of additional delivery slots opened up during the pandemic have helped the mults win extra custom, while the discounters have seen their hard-won market share eroded.
So will their caution and lack of investment in digital hamper discounter growth in the long term? Do they need to get a move on in their move to online? Or will their reticence prove to be an unexpectedly shrewd move?
The discounters entered 2020 brimming with confidence. In February, Aldi hit an all-time market share high, according to Kantar, with 8.2% of the UK grocery market. Lidl also enjoyed a peak of 6.1%. Both were planning hundreds of new store openings.
"They've lost share to other retailers, and particularly those that had online offerings. They've grown behind the market"
Meanwhile, Poundland was gearing up to expand its trial of chilled and frozen 'shops in shops' to 60 stores. B&M looked set to roll out its Heron Foods range to more than 80 trial stores and had opened a one million sq ft warehouse to do so. Home Bargains was making similar moves, while Iceland was rolling out into more than 50 The Range stores.
"For a long time they had been gaining momentum in the market and gaining share and putting pressure on the big four," says Charlotte Scott, consumer insight director at Kantar. But then "everything changed".
As the coronavirus crisis hit, it brought a sharp reversal in fortunes for the discounters. Sure, the overall grocery market increased in size – but they were getting a smaller slice of that pie. From when lockdown measures were enforced, with every week their hard-won market share has slipped away: from March to June Aldi's share fell by 8.5% and Lidl's 4.9% [Kantar].
It's no coincidence that this period saw a mass move towards online. Nearly one in five British households ordered home deliveries in the month to mid-June. With the exception of Iceland – which ramped up its established online operation accordingly – the cheaper operators suffered for their lack of options.
"They've lost share to other retailers, and particularly those that had online offerings. They've grown behind the market," Scott says.
Of course, there has been a good reason why the discounters have avoided online until now. Julian Skelly, managing partner of retail at Publicis Sapient, says it made little sense prior to the pandemic.
"The discounters have successfully pursued a strategy of price and assortment management to establish themselves," he says. "Their focus has led to significant growth and displacement of the incumbents. Adding online to this would have potentially diluted the focus and impacted their ability to deliver against their store strategy.
"They were going after market share of the larger in-store channel. It was more profitable to invest in physical stores than experiment with online, which was always going to be lower-margin," Skelly adds.
The layer of complexity and cost involved in online is, quite simply, at odds with their model, explains Jonathon Ringer, head of EMEA retail practice at Bain & Company.
"One of their great strengths, and the reason they can offer such great value to their customers, is the simplicity and standardisation of their model: the narrow range, the standard store model, the simple merchandising. They have been very disciplined about not allowing complexity to creep in," he says.
Not to mention the added cost. According to separate Barclays and Bain analyses, the discounters typically have a "razor thin" in-store operating margin of around 2% or less. That doesn't allow for the added costs of online, which are difficult for even the mults to swallow. Bain says a typical in-store operating margin of 2% to 4% turns into negative figures when you deliver those groceries to the doorstep of the customer.
"It was more profitable to invest in physical stores than experiment with online, which is always lower margin"
"Irrespective of the operating model, it drives additional costs to assemble baskets on behalf of customers and distribute goods for delivery and these costs are not sufficiently offset by the price charged," Ringer says.
Iceland's latest results highlight the impact. During the crisis, it increased delivery capacity by more than 300%, primarily driven by a desire to serve vulnerable people, according to David Devany, Iceland's chief customer and digital officer. "Our usual metrics for monitoring success were put to one side," he adds. In July, it posted an increase in sales but losses grew by a third, partly due to the cost of boosting its online capacity.
Eagle Eye head of industry insight Miya Knights says that impact is inevitable. "The last-mile margin conundrum is amplified with the discounting model."
So it's little wonder that others are cautious. As a Lidl spokeswoman put it: "Online is something we have been looking at. However, we have not yet identified a model that is suitable for our business and our customers in the long term." And playing it safe may still prove the best long-term strategy. Now that lockdown measures are easing, the discounters are seeing a return to form. "Their market share is returning to back to where it was, and back to where it was at the end of 2019," says Mike Watkins, Nielsen's UK head of retailer and business insight. According to Kantar, Aldi and Lidl share figures in August matched those from December, prior to the pandemic hitting the UK (7.9% and 5.9% respectively).
The location of stores is a major factor in their bounce back. "They are able to capitalise on people wanting to shop local," says Watkins. He picks out Iceland as the "clear winner" of the pandemic, but not because of its online presence. "It's the importance of frozen food, the Food Warehouse format, as well as being a conveniently located retailer. They capture local shopping, as do Aldi and Lidl," Watkins says.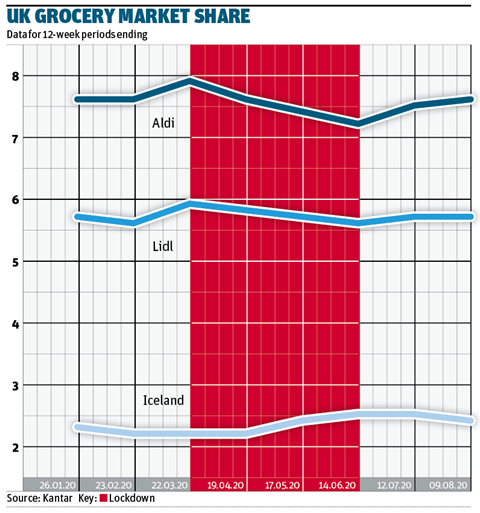 Discounter dip: how Covid influenced market share
How a pandemic can change things. Having enjoyed consistent growth, Aldi and Lidl's market share started to tumble in late March, coinciding with a stellar growth in online.
Their lack of home delivery service is likely to be one factor. See the contrasting fortunes of Iceland, which held on to its share as it undertook a major ramping up of its online operations.
But it's important to note that the big four, which similarly invested in online, also faltered. All but Morrisons lost some ground. Indeed, the biggest beneficiaries of the shifting share were convenience and pureplay online. Symbols and independents increased share by more than a third from the end of March to July, as Ocado hit a record high.
But as restrictions ease and high streets and retail parks reopen, grocery share is returning to its pre-pandemic position. "While things are far from normal, the data shows a gradual softening of the more extreme lockdown trends in the grocery market," says Kantar's Scott.
What isn't softening is the shift to online. In the past four weeks, it accounted for 13.5% of sales, a higher proportion than in March.
"The shift to online grocery shopping, which looks set to stay, is the most dramatic change of shopping behaviour we've ever seen," says Nielsen's Watkins.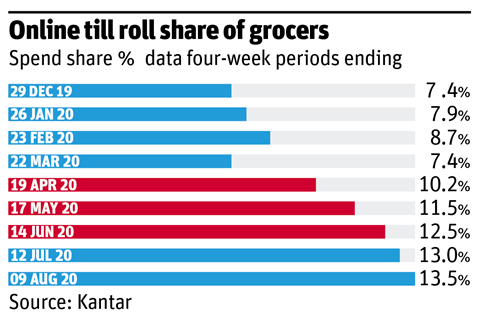 Store footprints
Until now, this is where the discounters have focused their efforts. In July, Aldi and Lidl both announced they were on course to hit their respective UK store number targets of 1,200 by 2025 and 1,000 by 2023. Iceland remains on course to hit a target of 20 new Food Warehouses by next year. B&M and Poundland are pushing ahead with new store schedules too.
For now, this may be a better use of their investment than online. As Watkins puts it: "One way to look at it is their gaining a bigger share of the shoppers who are not online. It's a massive marketplace. That's a lot to play for." After all, online still only accounts for less than 14% of sales. Besides, online shopping mainly replaces big basket shops and Aldi and Lidl "don't play in that space", Watkins adds.
Furthermore, the UK is now officially in recession – which could play into the discounters' hands with or without home delivery. "Potentially there's going to be a lot of people that are really seeking value, especially during a recession, and the discounters are really well positioned for that," says Kantar's Scott.
Online demand
On the other hand, an economic downturn "doesn't negate the long-term trend towards online grocery shopping", stresses Ringer of Bain & Company. "At some point the discounters need to face into this," he warns. "The demand for online is growing and this would mean an increasing proportion of the grocery market that they can't participate in." Online penetration is expected to level out at 14% by 2025, according to Bain. Bullish predictions from Ocado CEO Tim Steiner put it closer to 30%.
The discounters seem to be heeding that warning with tentative moves. Still, none seem to have worked it out yet. Lidl told The Grocer last June it was "actively exploring" online but is yet to make a significant move. Poundland's "biggest transformation programme in its history" includes a pilot online service – a u-turn on its previous resistance to the channel – but the bulk of the work is in "refreshing and refurbishing stores".
Perhaps the most progress has been made by Aldi in its deal with Deliveroo. The model doesn't add much complexity or cost. However, it could negate the appeal of a discounter – the service carries a £4.99 charge and mark-up on shelf prices.
"It challenges their discount proposition and it erodes their ability to keep their 'lowest price' promise," says Knights of Eagle Eye. "Customers might be put off by one price for products in store and another for online. They expect price transparency and consistency across sales channels."
For customers, the ultimate option would be a full home delivery service in the style of the mults. The discounters are understandably resistant, but with the potential of a 'second wave' of coronavirus, and continued growth of online, Skelly says there is one key question: "Can they afford not to invest in online?"
Their 'keep it simple and low-cost' business philosophies could change yet, Skelly says: "The market has shifted and the discounters need to re-evaluate their strategies. Rather than being left behind, if they can create a compelling online proposition, a recession could accelerate the switch of their target shoppers online and they could clean up."
From food parcels to third-party fulfilment: the online discounter offerings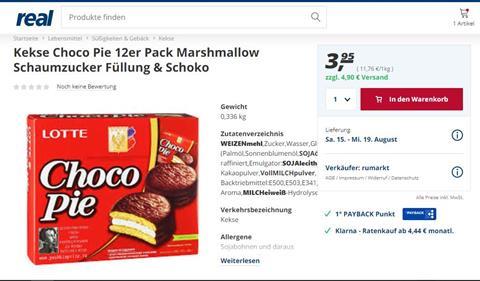 Real.de
In June, Lidl's parent Schwarz Group acquired one of the largest online marketplaces in Germany: real.de. The Amazon-like site offers a huge range of products, including grocery.
"It's an essential component of our future offering. The combination of brick-and-mortar business and online trading will open up opportunities," said Rolf Schumann, Schwarz's chief digital officer.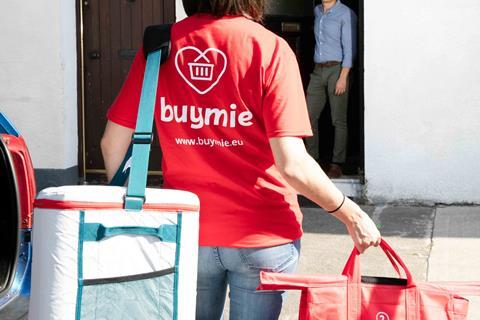 Buymie
In Ireland, Lidl goods are available on personal shopper app Buymie. The app promises to deliver groceries to customers' doors within the hour, after being picked from stores by couriers.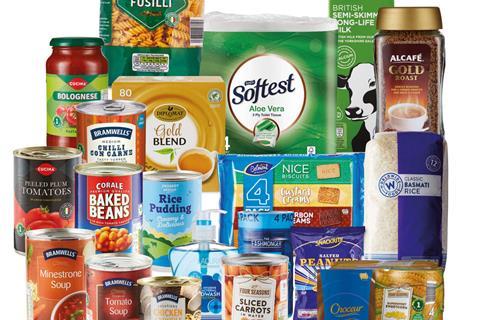 Parcels
In April, Aldi launched a food parcel service to help vulnerable customers get supplies. Parcels contained 22 ambient products including rice and pasta, UHT milk and canned foods, and cost £24.99 including delivery within 10 days. Shoppers also got a dispatch email and updates as the delivery progressed.
The initiative is now over – the website states they are sold out.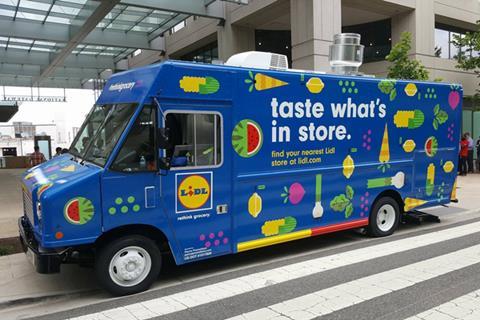 Food truck
Lidl launched a colourful food truck service earlier this year to make special pandemic grocery deliveries without any service fees to several retirement communities in Virginia, US.
The effort was more of a PR exercise than it was a new format trial, but home delivery is available from 80 stores along the East Coast via Buymie-like delivery partners Shipt and Boxed, depending on the area.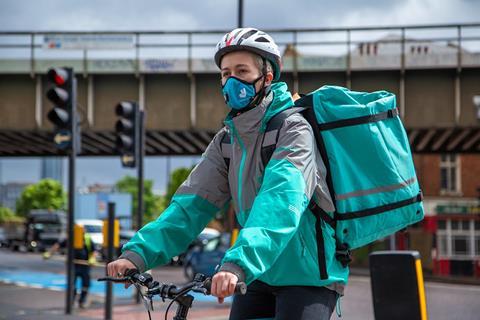 Deliveroo
Aldi was an unexpected addition to Deliveroo's growing roster of grocery partners, when an eight-store trial in Nottinghamshire was announced in May. A further 12 branches in Manchester, Cambridge and London have since been added, with wider rollout likely.
About 200 essentials feature, but the service comes with a £4.99 delivery charge and a mark-up on shelf prices.