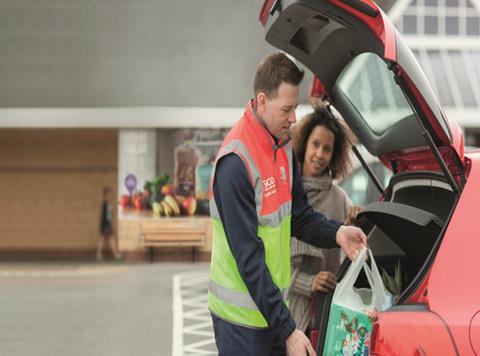 Tesco is expanding its same-day grocery click and collect service with a new early collection slot.
As of next week, customers who place their orders before 9am will be able to collect them from midday onwards that same day. There won't be a limit on the number of items per order.
The new service, which comes into force on 13 March and will be available from more than 300 locations across the UK, expands Tesco's existing offer, where customers can order by 1pm to pick up from 4pm. Same-day click and collect will be available from Monday to Saturday and come with a charge of £2 to £4 per order.
Tesco said customers were increasingly turning to click and collect as a quick and convenient way to get their groceries, with a 20% increase in the number of customers using the service in the past year.
The same-day collection option, which started being trialled in November 2015 and was rolled out to about 300 stores last summer, had proved popular, with almost 10% of click and collect orders now placed on the same day, it added.
"More customers than ever are choosing to use our grocery click and collect service, which is we've decided to introduce a new same day collection slot," said Adrian Letts, managing director of online at Tesco.
"We offer a range of ways to shop with Tesco, and click and collect means customers can choose to pick up their shopping at a time and location that suits them, without having to hit the aisles themselves."
Tesco already offers same-day home delivery to customers in London and the South East, with customers able to order by 1pm to have their shopping delivered from 6pm onwards.
Same-day delivery is available from Monday to Saturday and priced between £3 and £7.
Click and collect and same-day delivery are free of charge for Tesco's Delivery Saver customers.