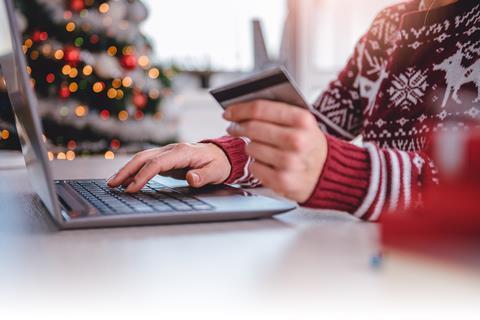 As part of a family of five who have been eating three meals a day at home for the last 15 months, not only have we spent more money on groceries than any other period of our lives, but we've also experienced more grocers, discovered more brands and tested more mealtime options than ever before. And our smartphones have, of course, been at the heart of it.
Due to the volume of shopper missions, frequency of shop and breadth and value of SKUs, grocery has historically been a much less digitally mature sector than the rest of retail. However, the pandemic has brought a fundamental shift in digital maturity for grocery, and as grocers and brands start to think about Christmas 2021, here are three trends we think they need to be thinking hard about already.
Digital will be key both online and offline
Even out of lockdown, online grocery remains at 13.4% of the market. That's double pre-pandemic levels. And the trend will no doubt sustain for Christmas now that a new audience has been created for online. Grocers need to use the time between now and the festive period, when demand will no doubt outweigh slot availability, to understand who the right customers are to acquire online.
The past 18 months have also given people a chance to get more familiar with how digital can help them with their store experience. Store searches are also up year on year as shoppers turn to their smartphones before they head to the supermarket. Digital's role is no longer limited to a proportion of early adopters. It's crucial to every shopper journey, in-store and online, and businesses need to think about what role they are playing in all journeys.
The number of influences to store choice will be greater than ever
Researching quality is often why people turn to search and, despite smaller celebrations last year, people were still looking to trade up. Quality searches were up year on year, outstripping value, and Waitrose's share of Google searches amongst the grocers was the highest it's ever been last December.
However, the number of attributes consumers care about has increased. Price and value, alongside quality, remain centre stage but sustainability is top of mind. Social impact and store cleanliness/safety are also starting to impact consumer decision making.
In fact, in the past three months, there were 70% as many searches for 'Asda coronavirus' as there were for 'Asda deals' (Google trends). So this Christmas there will be more complexity than ever for grocers to think about in terms of getting consumer attention and shifting perceptions.
Shopper behaviour will continue to be unpredictable
Christmas is usually a predictable time of year in terms of consumer behaviour. But Christmas 2020 was much harder to predict. For example, without extended family celebrations, turkey sales were down 5% – a trend echoed in searches, with demand peaking for halves and crowns rather than whole birds.
There were fewer party food searches, more meal kit searches and more Deliveroo searches than ever before. Sales and search volume were at an extraordinary level and last year hugely increased relationships with take-home food and drink. Has it changed any of our traditional behaviours? Will more of us cook, or choose alternative meal options during the festive period?
Either way, 2021 will continue to be less predictable than pre-pandemic in terms of size and make-up of baskets. Businesses being nimble in how they respond to demand will be crucial to their success this Christmas.
It's a hugely exciting time for all of us in grocery as consumers' relationships with food and drink are more digital than they've ever been. How that evolves this year will be fascinating, but one thing is for sure: greater engagement with digital leads to myriad more opportunities to connect with customers.