They've arrived en masse almost as rapidly as they claim to deliver. In the past three years alone the number of third party logistics operators to have launched in UK grocery is in double figures. Almost weekly, one seems to be launching (or relaunching) or kicking off a new round of crowdfunding to pay for bold expansion plans.
All these new arrivals offer grocers either e-commerce platforms, speedy deliveries or both, each with its own USP. Some are grounded in fast food or general retail, with one foot wedged in the grocery door, while others are grocery-specific. They've attracted serious partners too. B2B delivery platform Stuart provides Sainsbury's one-hour Chop Chop delivery service while London-based Quiqup is behind the equally rapid Tesco Now. Ocado appears to have similar plans. Last year the company's MD of general merchandise relationships James Matthews said the company was "experimenting" with rapid delivery and considering using third parties. And last week Ocado CFO Duncan Tatton-Brown confirmed such a service was on the way.

Even online-shy supermarkets are using them to dip a tentative toe in the rising e-commerce waters. The Co-op, still without an online offer under its own banner, is trialling delivery to Milton Keynes using a fleet of self-driving vehicles with orders placed on an app by Starship Technologies. Since January, the mutual has also been trialling delivery by Deliveroo in Manchester, with orders placed on the rapid logistics company's website. And in September last year M&S launched an online grocery trial in partnership with third party logistics firm Gophr, delivering in as little as an hour to loyalty scheme members in Camden and Reading.

So why have so many of these startups emerged so quickly? Why are big supermarkets like Sainsbury's and Tesco using them, despite having invested millions in fulfilment operations of their own? And can the industry sustain them all?
"Fleets run on a scheduled basis so you know the number of vans you need. With on-demand it's more up and down, more peaky"
It's easy to find the answer to the first of those questions. It's right there in the funding appeals and expansion plans of the new operators themselves. Launched in 2016, Home Run announced it had 'plans to combat Amazon' by expanding beyond London and offering an e-commerce platform and delivery logistics to 'any European grocer'. Similarly when On the Dot, part of City Sprint, announced a new partnership with an as yet unnamed 'major supermarket', CEO Santosh Sahu boasted "we can bring Amazon Prime-type rapid delivery experiences to UK grocery".
Ben Scallan, CEO of Lineten, which provides software to integrate retailers' e-commerce with delivery providers, says Amazon is the "elephant in the room" driving the emerging industry. It can now deliver groceries in under two hours with Prime Now, laying down a gauntlet to traditional retailers. "Amazon is beating these guys with an easier service," he says, "as you can order with them on a whim." While the mults currently have their own delivery infrastructures built to cater for the big weekly shop with a delivery slot, they're not equipped for the less predictable, on-demand model of delivery that is soaring in popularity.

"The fleets run on a scheduled basis, so you know the number of vans and drivers you need," says Scallan. "When you get to on-demand it's more up and down, more peaky." And this unpredictability can make keeping customers happy more challenging when unforeseen circumstances, such as driver absence, arise and "so the more it makes sense to offset some of the risk and put it across to these small fleets", he adds.

These third party operators provide retailers this agility by giving them access to a gig economy via their couriers, says Ray Gaul, vice president of research and analytics at Kantar Consulting. "Uber showed that you can get motivated workers in huge numbers if you simply say 'you create your own rules and as long as you do a good job you can keep doing it'. That's highly attractive to any employer and the clever retailers caught on quickly that having big, inflexible contracts with lots of workers is not the only way to scale."

Plus, they simply don't know yet what the best solution is for expensive on-demand last mile delivery - so why take the gamble of building your own models when you can let someone else work it out? "The advantage of these partnerships for big retailers is they can experiment," says Bruno Monteyne, senior analyst at Bernstein. "They can learn about that market without investing huge amounts of capital."
"Retailers can experiment without investing huge amounts of capital"
Improvements in speed of delivery is itself one of the drivers behind that growing public demand, with a recent global survey of grocery e-commerce leaders by Tetra Pak estimating that fulfilment times could be down to as little as 10 minutes by 2025.

Unlikely as it may seem, Starship Technologies boasts that its self-driving robots are already managing to deliver within 15 minutes of an order being made. The US business promises one-hour delivery within a two-mile radius of the Milton Keynes Co-op branch but told The Grocer its 4mph robots were managing much shorter times depending on distance.

Snapping at their heels all the time is Amazon of course, with UK country manager Doug Gurr saying only last month that the company was aiming for delivery times of under 30 minutes with drones.

The challenge for all participating in this last mile race, though, is that the shorter the delivery time, the higher the costs of getting the model wrong.

Another reason that it makes particularly good sense to outsource rapid services like Sainsbury's Chop Chop is that "it passes on the high costs associated with the last mile as well as the risks", according to Lisa Byfield-Green, senior retail analyst at LZ Retailytics.

"The partnerships work well for retailers and allow them to offer services that would be cost prohibitive if they invested to run them in-house," she adds.

It can be no coincidence that, as Byfield-Green points out, Amazon itself is also interested in third party delivery providers. The internet giant recently launched an appeal for third party fleet operators to become partners in the UK.

"Amazon Logistics is a good example of a company relying on third parties," says Byfield-Green. "Amazon provides the business and the IT services, giving third party providers all the tools they need."

There's also an appeal for "large retailers that have not yet established their own e-commerce capabilities, such as M&S or independents", says Bryan Roberts, global insights director at retail marketing firm TCC Global. Third-party companies provide a route into e-commerce that's less worrying to investors, says Gaul.
Delivering restaurant food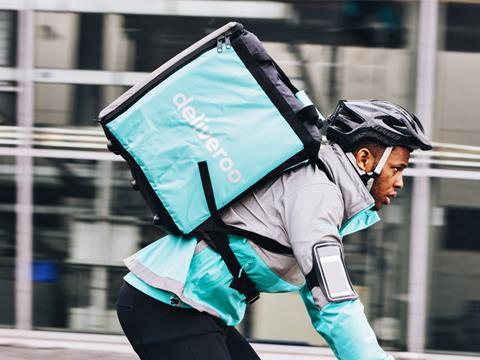 There are three heavyweights in UK restaurant delivery: Just Eat, founded in Denmark in 2001, Deliveroo, founded in London in 2013, and Uber Eats, launched in California in 2014. All take orders on their websites or apps but the latter two also deliver, while Just Eat usually leaves that to the restaurant partner.
Since last year Just Eat has also joined forces with delivery companies such as Stuart to gain chain restaurant partners including KFC, Burger King and Subway, and fend off the growing threat of Deliveroo and Uber Eats.
In November last year, the Competition & Markets Authority approved Just Eat's £200m acquisition of Hungryhouse, another online platform, on the grounds the business model was "sufficiently close" to Deliveroo and Uber Eats'. Deliveroo also delivers food prepared at its own sites, called 'Editions' kitchens, in partnership with restaurant businesses including street food stalls. Various startups have tried to emulate Just Eat's success as a takeaway marketplace, most recently EasyFood, backed by EasyJet tycoon Sir Stelios Haji-Ioannou.
Unsurprisingly, Amazon has entered the fray. In 2016 the tech giant launched Amazon Restaurants, offering one-hour cooked food delivery to Prime subscribers in central London.
"In the age of private equity there's a pattern of trying to make a balance sheet look as attractive as possible, maximising cashflow and minimising debts," he says. The investment required for your own logistics operations "takes all the numbers that investors look at and moves them in the opposite direction. That's different from 10 years ago when it was seen as a good thing to have debt and long-term assets on the balance sheet."

For independents, third-party operators hold the promise of access to the online market, says Roberts, and some have made them their focus. Bristol-based Good Sixty focuses exclusively on independent retailers, giving them their own profile on a website where orders are placed. Grocers pay commission and are alerted when they need to prepare an order.

Grocemania also offers an e-commerce platform and logistics to independents in parts of Surrey and London. The model is similar to Good Sixty's, with shops picking the orders and paying commission.

Both companies are targeting London. In fact it seems every emerging company in this space is either in the capital or wants to be. Which raises the obvious question of whether the market can sustain them all.

"Only a small number will last more than one to two years," says Brittain Ladd, strategy and supply chain consultant and a former Amazon executive.

"To succeed, third parties need to continuously attract new customers while retaining the customers they've served. Customer acquisition costs are high and customer retention is low."

Then there is territorial expansion. Stuart expanded to Bristol in March and Manchester and Liverpool in April, but has yet to confirm new partners there.

Some companies defer profits for growth, making delivery charges low or even free with the intention of raising them once expansion and new partners are secured.

"The majority are funded and unless they can prove a sustainable model, funding will cease," says Ladd.

Some have gone already. Appetise, operating in the takeaway space and with ambitions to rival Just Eat, stopped taking orders in April after a 'disappointing funding round'.
"The market can't sustain all these new arrivals but it will continue to flourish - ultimately there's still demand"
It's "already been proven" that the market can't sustain all these new arrivals, says Scallan. "We've seen lots of startups go by the wayside and VCs are less enamoured with it because of the risk." The industry may be a turbulent one, but it will continue to flourish, because "ultimately there's demand in the market".

So which version will ultimately prove the best solution? In a market with lots of competition, Scallan thinks Lineten's integration of retailer e-commerce platforms with the booking systems of logistics providers, from last mile couriers to taxi fleets, offers a single route to working with them all. "These guys failing almost benefits us," he says, because the aim is to make a fragmented industry serve as one.

Ladd expects the attrition rate among third parties to increase but thinks leaders could emerge as some "surgically make acquisitions" of others.

Interesting partnerships combining strengths have already emerged. Grocemania recently partnered with Quiqup in London, combining the e-commerce platform of the former with the courier reach of the latter. In the takeaway space Stuart delivers for Just Eat, helping it win restaurant chains like KFC as partners.

The turning point though could be when one supermarket swoops in to "acquire the partner" it grows to favour, suggests Monteyne.

Ultimately though bets are off, according to Ladd. "The only constant for the retail industry, and grocery retailing specifically, is change," he says. "It's too soon to predict which third parties will be left standing five years from now."

Luckily by experimenting with them in the way they currently are, supermarkets don't have to.
10 third-party specialists who are in the race
Grocemania
Founded: 2016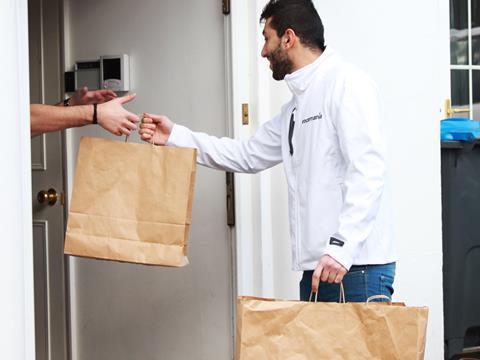 Grocemania provides website and app e-commerce platform and one-hour delivery for grocers in parts of Surrey and south west London, focusing on independents. Delivery costs £2.50 and minimum basket size is £10. Grocers are usually charged 10% commission but it also delivers for Tesco and Budgens, where no commission applies but customers pay a mark-up on shelf prices. Grocemania's recent deal with Quiqup, using its e-commerce platform and the latter's delivery logistics respectively, will hasten London expansion.
Quiqup
Founded: 2014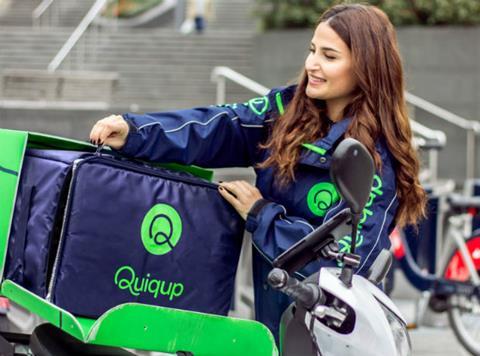 Quiqup is a rapid-delivery courier that provides retailers with an app-based e-commerce channel. It was initially consumer facing but is now increasingly B2B. Grocery makes up around 20% of Quiqup's business, with the rest including restaurants and other retailers. Grocery partners include Tesco, which uses Quiqup for its one-hour Tesco Now service in London. As well as the Grocemania tie-up, Quiqup this year expanded from to London to Manchester and Dubai, though no grocery partners have yet been signed in the new territories.
Home Run
Founded: 2016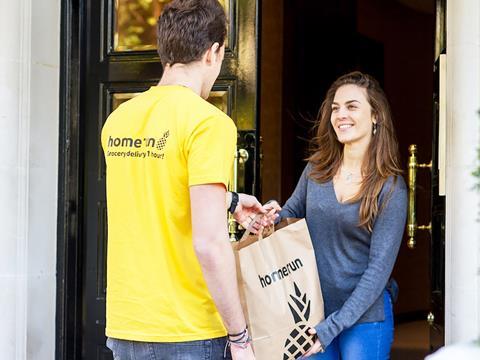 Grocery logistics firm Home Run is a branded web and app e-commerce channel, offering store pickers and delivery by contracted drivers in as little as an hour. The delivery charge is £6 on average, depending on the time requested and distance from store, plus a mark-up of 10%-20% on shelf prices, depending on the product. Delivers for branches of Tesco, Whole Foods Market, M&S and Waitrose. Operates in 15 London postcode areas but recently secured around £500k for expansion with a new model, called 'Powered by Home Run'.
Farmdrop
Founded: 2014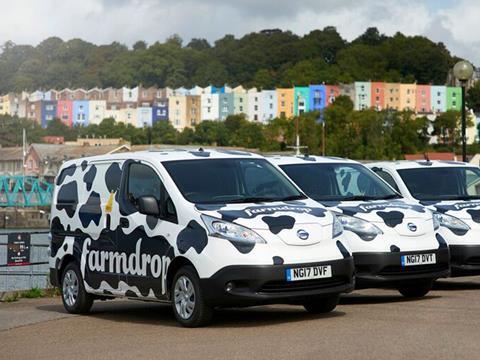 Started by an ex-City broker, Farmdrop delivers direct for local farmers and producers, giving them "unprecedented share of the retail price". Orders are placed on Farmdrop's website or IOS app and picked by producers. Delivery is £3 on orders under £30 and drivers use electric vans. Soonest delivery available is next day. Operates in Bristol, Bath and inner London. Recently gained £10m investment for expansion into the south east and Manchester. Should achieve £10m annualised sales by year end, thanks to average 10.3% month-on-month growth.
Starship Technologies
Founded: 2014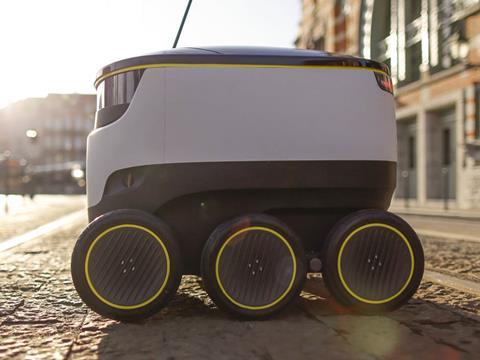 Starship is a San Francisco-based company that's using 4mph robots to deliver within a two-mile radius of a Milton Keynes Co-op branch in under an hour. Orders are placed using an iPhone or Android app, picked in store by a human working for Starship and put in a robot for an unaccompanied journey, using a compartment the customer unlocks using the app. Delivery charge is £1 during initial trial phase. The Co-op trial began in April this year. One of the robots also performed a one-off Tesco delivery trial in London last year.
Good Sixty
Founded: 2017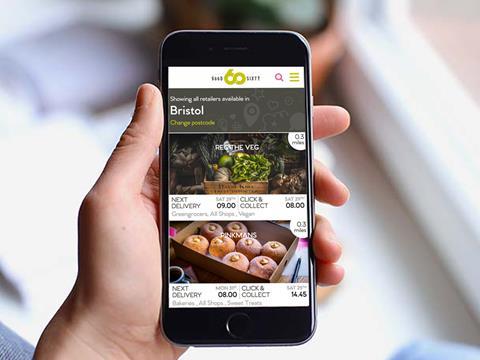 Based in Bristol, Good Sixty is an e-commerce and delivery operator exclusively for independent retailers including bakers, butchers, fishmongers and greengrocers. Each partner has its own profile page on Good Sixty's website. Next-day delivery is soonest currently available, in hourly time slots. Delivery is currently free but a charge of £2.50 is planned. Partners are chargedan undisclosed commission. Recently raised £192,000 to expand into Bath in July and London by the end of this year.
Stuart
Founded: 2015
Delivers takeaways for Just Eat, and provides Sainsbury's Chop Chop service in London, offering one-hour delivery of up to 25 items with a £4.99 delivery fee and no minimum basket size. Orders are placed using a dedicated Chop Chop app, picked by Sainsbury's and delivered by Stuart-contracted couriers. Employs 136 people in 15 cities including Paris, Lyon, Barcelona, Madrid and London. Added Bristol, Manchester and Liverpool this year but has yet to confirm new grocery partners. Has received investment totalling €22m.
EasyFood
Founded: 2018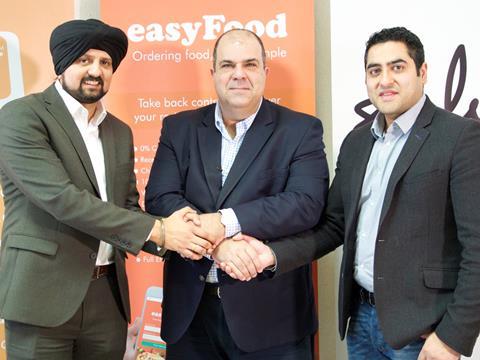 Even Stelios wants in. Co-founders Gurpreet Sidhu and Jeewan Sagu initially faced legal action over the name but the EasyJet tycoon was instead convinced to buy a one-third stake. EasyFood charges restaurants a subscription fee (starting at £100) rather than Just Eat's 14% commission on deliveries and gained more than 200 partners within weeks. The Birmingham-based business now wants to provide the same service for independent grocers, offering an app and website e-commerce platform and handheld terminals to change prices.
Buymie
Founded: 2016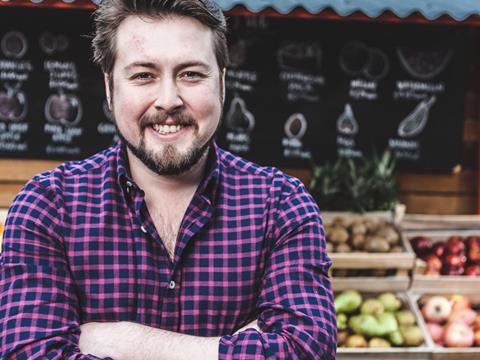 A Dublin-based grocery delivery specialist with sights set on the UK, Buymie acts independently of retailers, using contracted store pickers and couriers. Delivery is €6.99 for within one hour, €4.99 for two hours or €3.99 for three hours, plus a 14.75% mark-up on shelf prices. Customers can order from branches of Tesco, Aldi and other grocers. In December 2017, CEO and founder Devan Hughes said he was confident Buymie could be up and running in the UK this year after the business secured £328k in 10 days of crowdfunding.
On the Dot
Founded: 2018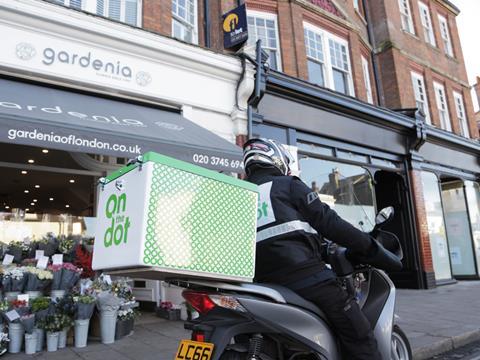 The national third-party rapid delivery company recently announced it was moving into grocery for the first time in partnership with a "major supermarket", thought to be one of the big four. Delivery will commence from "a few branches", covering three postcode areas in central London from the end of July, according to CEO Santosh Sahu. As a subsidiary of City Sprint, Sahu claims it has the infrastructure to deliver groceries within 90 minutes to 88% of the UK with sufficient store partners, bringing "Amazon Prime-type rapid delivery to the UK grocery market".