After years of consumers preferring doorstep delivery, coronavirus has helped put click & collect back on the map. But can it last?
In its infancy, click & collect was billed as the ultimate in customer convenience. Pioneered in the UK by Argos at the turn of the millennium, the concept quickly caught the attention of the supermarkets. They began to offer 'order online, collect in store' on general merchandise, which quickly paved the way for grocery collection, too.
But that enthusiasm soon waned. Big rollout plans at stores were slowed or spiked. While customer take-up remained steady, it was perhaps not the revolution in food retailing some had believed. As home delivery became cheaper and more widespread – some slots were available for less than £1 – the idea of trekking to the supermarket for an online order became significantly less appealing to online converts.
So heading into 2020, growth of the channel was plateauing, according to eMarketer analysis. It had peaked, according to automated locker firm Retail Robotics partner Marek Piotrowski, as "a curiosity, a nice to have", rather than an essential service.
That was until coronavirus. With online delivery slots initially impossible to secure – at least within reasonable timeframes – and risk-averse shoppers avoiding stores, click & collect rose again as a crucial option. But can it last? Can it be made lucrative? And where does it go next?
Click & collect has proven a win-win during the crisis. For customers, it offers the holy grail of avoiding the risks of a physical store, without the long wait for a home delivery slot. Indeed, more than four in 10 UK consumers surveyed by retail SaaS provider Qudini said they were more likely to use click & collect services at supermarkets during the pandemic.
For supermarkets, click & collect can mitigate the impact of in-store fears. "It benefits grocers by offsetting revenue lost as a result of lower customer throughput due to social distancing measures in stores and constrained home delivery capacity," explains Eagle Eye head of industry insight Miya Knights. So in the wake of lockdown, supermarkets have significantly ramped up click & collect – sometimes known as buy online, pick up in store (BOPIS) or kerbside collection – to meet demand.
Tesco now offers click & collect from about 400 stores, an increase of 70 over the past few months. Sainsbury's has ramped up availability to more than 300 stores, an increase of 181 since the start of lockdown. Waitrose has increased the number of stores offering food collections by 80 this year, taking its total to 240, more than 70% of its estate. From a trial of just six stores in March, Morrisons is now offering click & collect pick-up from almost 280 stores as of last month. Co-op, which launched its online shop last year, has "rapidly accelerated the rollout" of click & collect and is on track to offer it from more than 650 stores by the end of this year. Asda's focus on growing click & collect had started before the pandemic, and it currently offers the option at 470 sites.
"It has been used for everything from a small weekly shop to those just wanting to pick up a few essentials"
Speed is a key selling point of these sites. Asda led the way with the rollout of Express Click & Collect in January, which allows customers to shop the supermarket's full range online and collect it within one hour of placing an order. It seems to be hitting the mark.
"We expected to see people picking up forgotten items from their weekly shop, or basics such as bread, milk, nappies and last-minute dinner ingredients. In reality, it has been used for everything from a small weekly shop to those just wanting to pick up a few essentials," said Simon Gregg, Asda's VP for online grocery, earlier this year.
Tesco has similarly been working to provide same-day collections, while rivals all endeavour to offer a next-day service. In any case, it has become far quicker than getting groceries delivered to your door.
Collection points
Rapid turnaround isn't the only way of delivering convenience, though. Supermarkets are also exploring new collection points. These largely remain on their premises – the trial at Underground stations proved a harsh lesson – but with the use of technology.
Tesco is trialling a locker site where "customers are able to enter their order number into an interactive screen in order to open the locker door". Asda – which has over 80 lockers across its estate – is installing more.
Different configurations are also being considered. While collection spots – either lockers or a van – are typically fulfilled from the store, Tesco is now stocking some direct from a CFC. Sainsbury's, meanwhile, is converting several convenience stores into "mini fulfilment centres to make sure we can meet demand for click & collect", it says.
However they are filled, lockers seem to be big news. Avery Berkel, which makes collection lockers for Asda and Intermarché in France, has witnessed an "enormous surge of interest" in its products throughout the pandemic, says the company's click & collect product manager Lee Rasberry.
Similarly, locker-maker Retail Robotics – whose locker banks feature a separate store for frozen items – is gearing up for "mass implementation". Adoption is heading towards a "tipping point" and it has a pilot "with one of the biggest UK retailers", says Piotrowski.
Gartner analyst Tom Enright believes it is the right time to move fast. For him, the "significantly increased consumer demand" must be met by the supermarkets. "They should approach the rapid deployment or expansion of their click & collect offering in a way that carries a higher level of risk of failure than they may be accustomed to. Such an approach is required to meet immediate demand for the service," he says.
If the performance of click & collect so far is anything to go by, the risk of failure is relatively low in any case. Asda's click & collect volumes are up by more than 200%. Sainsbury's says it is "fulfilling more click & collect grocery orders in a single day than we were fulfilling in a full week prior to lockdown".
It's not just about volumes, either. Click & collect can also help with the age-old problem in online grocery: profitability. That's something that continues to elude home delivery, which has come to the fore at a time when online accounts for 11.5% of all grocery sales according to Kantar and 13% according to Nielsen.
Bain & Company analysis last week revealed the typical in-store operating margin of 2% to 4% turned into negative figures in home delivery. That loss could be as much as 15%, mainly due to last mile costs.
"Before the pandemic, many retailers hoped consumers' unhurried embrace of online grocery would give them a few years to develop a business model that wasn't so dilutive. Now they need to find a much more rapid fix for the broken economics of the channel – and at the same time ramp up their e-commerce capacity to meet the surging demand," the consultancy says.
"For the retailer, click & collect offers a much more cost-effective model than home delivery"
Plus, there is the risk of losses spiralling further in the UK. "This pandemic will have heavily accelerated the amount of delivery vehicles on our roads and I think consumers and the government are starting to understand the negative effects of this," says Avery Berkel's Rasberry. For that reason, the Department for Transport was last month revealed to be considering a "mandatory charge" on delivered goods ordered online in a bid to reduce congestion and pollution.
Click & collect promises a way around those issues. "For the retailer, it offers a much more cost-effective model than home delivery, especially unmanned lockers with very low labour overheads," says Rasberry.
Bain & Company agrees it is a way to avoid the last mile logistics challenge that "bedevils" delivery services. Granted, it still isn't profitable – but "the bleeding is less severe". The margin is estimated to be about –5% for a grocer that fulfils click & collect orders with its own picking from a regular store without charging a fee. More encouragingly, click & collect orders picked from a dark store or by a third party should break even.
Eagle Eye's Knights says it is "certainly more profitable than home delivery", which involves temperature-controlled vans and the risk of missed deliveries. "But this is mitigated by whether orders are first processed via a centralised distribution model or in a store, with all of the associated extra store stock replenishment and labour requirements," she says. "Grocers must, for example, ensure store-based picking of click & collect orders does not affect on-shelf availability for customers visiting to buy in-store."
Automation
There are ways to improve the economics. Picking from a micro-fulfilment centre (MFC) boosts margins to 2%, Bain & Company estimates. It is noteworthy that these centres tend to be highly automated. "The more automated the supply chain processes supporting the click & collect journey, the faster, slicker and more profitable it is likely to be," says Knights.
MFCs can "improve profitability of both the store and online by shifting manually intensive and error-prone in-store picking systems to more demand-generation based, automated ones", she adds.
Some technology vendors are even pitching a store concept that is built around click & collect to further improve margins. Alert Innovation – which supplies Walmart's picking bots – last year revealed its 'Novastore' concept. It features a floor for customers to pick their own fresh products, while robots build their click & collect basket of other items – pre-ordered online or on in-store touchscreens – at the same time. "I'm more convinced than ever it's the answer and will drive a paradigm shift," Alert's CEO John Lert says.
Don't just take his word for it. Supermarkets also expect the click & collect boom to continue post-pandemic. "It has been a great way to increase options for customers to shop with minimal contact, and while we see some of that demand dipping from current levels we do see it continuing to be above pre-Covid levels longer-term," a Waitrose spokeswoman says. Sainsbury's also says it expects usage to grow.
"I'm more convinced than ever it's the answer and will drive a paradigm shift"
That doesn't mean retailers can simply install a collection point and rest on their laurels. As customers are less loyal than ever, there are gains to be made by improving the experience, says Knights. "The collection process should reflect the best in-store customer experience, geared for speed, convenience and exceptional service," she argues. "Given more customers are currently using click & collect because they can't get a delivery slot or want to bypass the queues, making customers wait on arrival to collect their goods is probably the greatest challenge," she says.
Geo-location – an opt-in feature that alerts stores when a customer is approaching the store, so their order can be readied – has been used in hospitality settings and could be adopted for click & collect grocery too. "The technology exists," Knights says. "Providing dedicated collection and loading areas for click & collect customers within or near the store is also important." Loyalty programmes and rewards for customers could also be used to shift customers from delivery to the door towards click & collect.
If click & collect is to be a long-term trend, rather than a short-term blip, it is well worth getting it right.
Down the tubes: what went wrong with Underground station click & collect?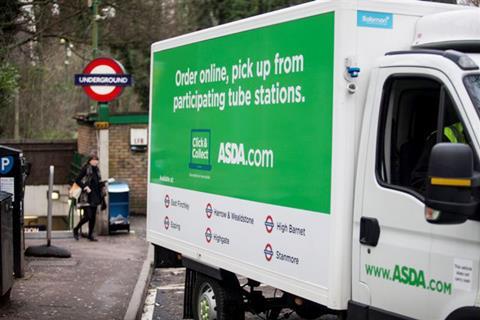 The concept made good sense. Consumers would order groceries online and pick them up at their local London Underground station on the commute home.
Launched in 2013, the Transport for London trial piqued the interest of several supermarkets. Asda moved first, launching the service at six station car parks, which soon doubled to 12 sites. Then Sainsbury's followed suit, with seven sites. Not wanting to be outdone, Tesco upped the number of stations offering collection of its groceries from eight to 14.
Tesco's then-London chief, current group chief commercial officer Andrew Yaxley, considered it the "perfect way" for commuters to shop.
Even Ocado joined in, upending its service model and placing vans for collection at Ealing, Ruislip, Eastcote and Woodford. Waitrose soon entered the pilot too.
Between them, the retailers clocked up more than 10,000 orders in first 10 months.
TfL called it "a tremendous success for all involved". Expansion to more stations seemed inevitable.
But within a year, all the Underground station pick-up points had been abandoned. So what went wrong?
"Our London customers have told us they prefer the click & collect service at our stores and online grocery shopping," a Tesco spokesman told the Evening Standard in 2015.
Poor take-up was one factor. Another was the finding that locals living close to the station – not commuters – were using the lockers rather than driving to the nearest store.
Other remote collection pilots have been trialled and abandoned. But the concept is not dead.
"The locker needs to be convenient for customers, but also fit effectively into the supermarkets' operations, along with being efficient to load and easy to support," explains Avery Berkel's Lee Rasberry. "As demand and adoption increase, we will also see a development of remote locations."