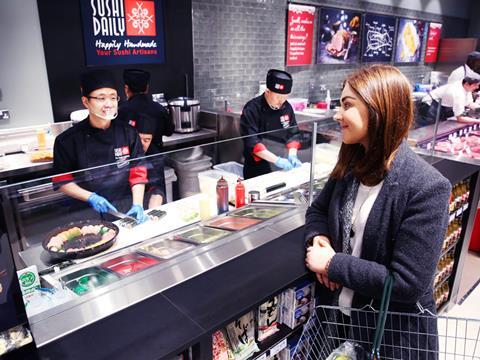 Waitrose has added Sushi Daily products from its in-store counters to its two-hour Rapid Delivery service.

Customers can choose from 25 different types of sushi, which are prepared in store. Prices range from £2.50 for avocado maki to £35 for the sakura sunset sharing platter which contains 54 pieces.

Once made, the sushi is packed in boxes with ice packs and delivered.

Waitrose was the first national supermarket to introduce freshly made sushi into its shops in 2015 through its partnership with Sushi Daily, and has since added 86 sushi counters to its stores.

It plans to install even more later in 2019.

In addition, Rapid Delivery is now available to customers in 12 London postcodes, up from eight when it was first launched on a trial basis in September.

Waitrose said the extension was due to "encouraging early sales," adding that the average number of orders had grown weekly by 20%, with sushi becoming one of the most requested products to be made available through the service.

Shoppers can order up to 20 items from over 1,500 grocery, toiletry and household products using dedicated website rapid.waitrose.com.

The minimum basket value is £10 and the delivery charge a flat rate of £5. Before checkout, shoppers choose either a scheduled one-hour slot for later the same day or rapid delivery within two hours. Delivery hours are 10am to 10pm on Monday to Saturday, and 10am to 6pm on Sunday.
"The quality and freshness of the products available from the Sushi Daily counters has really excited customers, with the counters becoming an integral feature of any shop we've added them to. Now we'll be the only supermarket delivering that experience direct to customers' home or workplace," said Waitrose concessions manager Kelly Gleeson.

"We've not only seen sushi sales increasing over time, but a shift in when customers are buying it. While traditionally a lunchtime option, it has become increasingly popular throughout the day, and Rapid Delivery gives us even more flexibility to meet customers' needs."

Sushi Daily UK managing director Daniel Coole, added: "We're excited to partner with Waitrose and offer our customers Sushi Daily on their doorstep. The fast speed of delivery complements the handmade sushi to order, which has made it possible for our sushi to be delivered without compromising on freshness and quality - an important step as consumer demand for fresh takeaway food gets stronger."