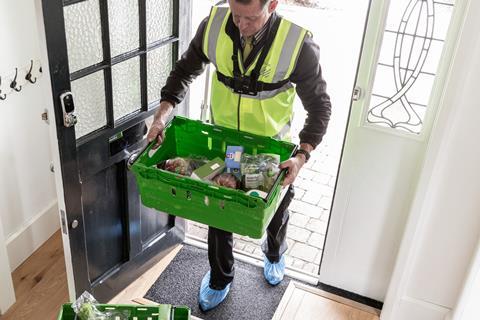 Waitrose is expanding its London trial of delivering groceries while people are out.

The 'While You're Away' trial was first announced last year and Waitrose is now searching for more people to take part, potentially in new areas, after positive feedback on the first few weeks of deliveries.

Participants have a new smart lock fitted to their front door by Waitrose. The lock can be opened by entering a temporary 24-hour code which customers must send to Waitrose via the shopping app the night before delivery for the driver to get in.

Once inside the property, the driver unpacks chilled or frozen goods into the customer's fridge or freezer and leaves everything else on a kitchen counter. They wear a body camera and customers can request to see the video of the delivery the next working day.
Ben Cronin, the trial's co-founder at the John Lewis Partnership, wrote on LinkedIn yesterday: "I am really excited to announce that we are opening up more places on the trial of While You're Away from Waitrose - home delivery where you don't have to be home.

"Customer feedback from the first few weeks of the trial has been excellent, so we want to open it up to more people. Even if you're not in the current trial area, please let us know if you are interested - we might be coming to you next!"

Deliveries are made from Waitrose's fulfilment centre in Coulsdon, South London, but a web page looking for more participants asks people to leave their details even if they are not in the current service area.

'Sorry, we're not available in your area yet,' it says. 'But we're planning on expanding in the future. Leave your details for further updates.'