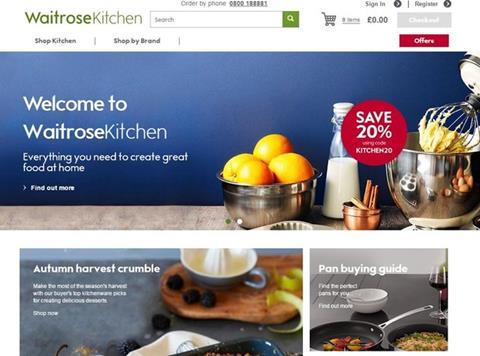 Waitrose has launched a new cooking website featuring recipe ideas and selling kitchen cookware.
Waitrose Kitchen has a range of more than 3,000 cookware and kitchen products including cookbooks, utensils, electrical goods and tableware. The site also features buying guides, recipes, tips and advice for customers who are passionate about cooking.
"We already offer our customers the ingredients, ideas and expertise and so waitrosekitchen.com is a natural evolution for Waitrose and a real step forward in our multichannel strategy," said Waitrose head of e-commerce Robert McCarthy.
"The essence of the site is to bring together our customers' love of food and cooking with all the equipment they need. The website will give them access to exciting products, competitive prices and ultimate convenience."
Waitrose Kitchen will join the retailer's two other specialist online shops Waitrose Florist and Waitrose Cellar in addition to the main website for ordering groceries.
Home delivery and next day click & collect from 9pm is available for all products online from Waitrose own label and all brands including Le Creuset, KitchenAid and Nordic Ware.
To celebrate the launch, the retailer is offering 20% off for customers who spend £30 or more on the site until 24 November 2015.