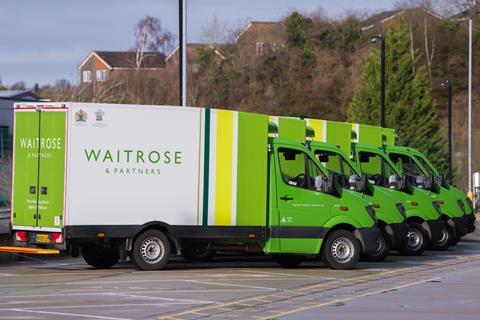 Waitrose is ramping up its online operations nationally in preparation for its September split with Ocado.
The retailer has this week added its Waitrose.com online delivery service to 24 more of its shops across the country, as part of a national rollout programme.
The shops were strategically placed to handle increased demand for its online shopping service ahead of the end of the Ocado partnership later this year, Waitrose said.
Digital director Ben Stimson added that September offered "the single biggest growth opportunity" for Waitrose, with the business investing heavily in preparation.
Waitrose is set to go it alone online from 1 September, when the Ocado joint venture with Marks & Spencer goes live.
"We're not starting from scratch," Stimson said. "Waitrose.com is growing significantly ahead of the market and we already deliver to tens of thousands of customers each week, added to the millions who visit our shops.
"We have robust plans in place to extend our reach ahead of September. We have significant investment planned for the coming months across our infrastructure, website and service – creating more delivery slots and employing a fleet of new drivers.
"And adding online capability to these 24 shops will mean we can reach even more of the country – we already deliver to 84% of UK postcodes and this is growing all the time. Our teams at head office are working across our website and apps to make our service better, faster and more convenient. And our chefs and product developers will be launching or redeveloping more than 5,000 of our own-label products this year.
"We are well prepared for a boost in demand and capacity has already been tested with our busiest-ever online order week – the week before Christmas in 2019."
The Waitrose store in Hailsham, East Sussex, will be the first of 24 to receive a Waitrose.com service for the first time over the coming months.
Currently just 150 of the retailer's 338 shops across England, Scotland, Wales and the Channel Islands cover online deliveries, with 84% of active UK postcodes able to order at Waitrose.com.
In addition to the new 24 shops, work is underway with the current online shops to further increase their order capacity. A new customer fulfilment centre is set to open in Enfield, North London, in the coming months to respond to a surge in demand in the capital.
Waitrose parent company John Lewis Partnership is set to report its annual financial results later this week, with profits expected to have plummeted and uncertainty over whether staff will receive a bonus.