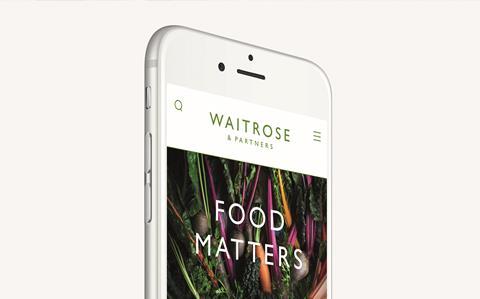 The amount of regular online shoppers over the age of 55 has trebled this year, new research from Waitrose has found.
The 'How Britain Shops Online: Food and Drink Edition report, published yesterday, found the impact of Covid-19 on customers' online grocery shopping habits had been vast, and was likely to continue to change patterns into the future. Waitrose found there had been a significant shift across the board in how people shop now compared with before the coronavirus outbreak.
Its study of 2,000 people combined with sales data, online searches and insight from staff revealed almost a quarter (23%) of customers in the over-55 age group had become regular online shoppers this year, compared with just 8% in 2019.
Less than half (47%) of this age group did some of their shopping online last year, which has escalated to 74% this year. The number of online shoppers aged from 35 to 44, meanwhile, has doubled in a year, from 16% in 2019 to 32% in 2020.
It also found more than three-quarters (77%) of people now do at least some of their grocery shopping online – an upturn of 16% on 2019. This was thanks to so many staying at home during the lockdown period.
Convenience was one of the key drivers of the growth of e-commerce, with 41% citing it as their reason do their shopping online, while one in five said they hadn't even considered it before the pandemic struck. This came alongside 60% of people shopping for their groceries online more frequently than they did pre-Covid, and two-thirds saying they now preferred online shopping to going into stores.
This isn't the case for all consumers though. Those in the north east were most likely to never shop online, with a third stating as much.
But the report suggested Covid-19 would have a long-term impact on shopping habits overall, especially when it came to e-commerce. The study revealed 40% of people would shop for groceries online more than before the outbreak, while 19% said they would make use of a variety of online services to get their shopping done, such as click & collect or quick delivery options.
Waitrose's own Rapid service, which allows customers to have up to 25 products delivered within two hours, currently has 23,000 shoppers – a threefold increase compared with before coronavirus.
The coronavirus outbreak has also affected consumption of alcohol, particularly over lockdown. Orders on Waitrose Cellar surged 238% during the period, while 17% of people bought more wine online during at that time compared with before it.
Close to a quarter (22%) cited the fact that they didn't have to carry bottles home as one of the reasons for purchasing wine online, while a similar number (23%) said they did so because of the wider product selection available online compared with in stores.
Londoners made the largest number of online wine purchases during lockdown, with 20% doing so and 19% in Scotland compared with a 17% national average.
There has also been a boost in environmentally conscious consumers, with 44% actively seeking out items with less packaging. Searches for Waitrose's food waste page are up 94% compared with last year too.
However, 22% of consumers said they thought more about animal welfare standards when shopping in-store compared with only 13% who did so when shopping online.
"Even before the Covid-19 pandemic, there are few retailers that wouldn't have predicted the continued growth of e-commerce relative to physical shops," said James Bailey, executive director of Waitrose.
"But what would have previously been a gradual upward climb in demand has – with the outbreak of Covid-19 – turned into a trajectory more reminiscent of scaling Everest. One in four of us now do a grocery shop online at least once a week – double the amount in 2019. Because online shopping quickly becomes habitual – these changes are irreversible."