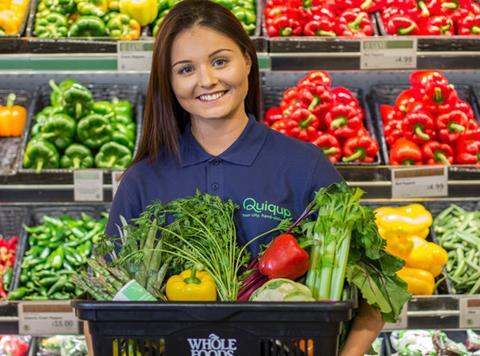 Whole Foods Market is launching a new food delivery service from its London stores via an Uber-syle app.

The company has joined forces with delivery app Quiqup after completing a pilot with the company in May.

The link-up will be available to Londoners living within the catchment areas of its seven centrally located Whole Foods Market outlets.

It will cover delivery of 40,000 food lines as well as health and beauty products. Delivery will start at £5.50.

"We are delighted that our customers' appetite for the highest quality of natural and organic foods can now be met on-demand at wholefoods.london exclusively through Quiqup," said head of marketing Benjamin Woodgate.

The service will work by letting customers select their preferred store, add items to a virtual shopping cart and then check out securely. Quiqup's personal shoppers confirm incoming orders on their smartphones, shop for the items at Whole Foods Market stores and hand over the shopping to the 'Quiqee' driver to deliver to the requested address, which can include homes and offices.

"We have seen an increased demand for faster services across all sectors, including groceries," said Quiqup founder and CEO Bassel El Koussa,

"We create technology in-house to transform businesses like Whole Foods and provide an on-demand one-stop shopping experience quickly and conveniently to customers who have busy lifestyles."

Quiqup and Whole Foods Market are to exhibit at Taste of London in Regent's Park from 15 to 19 June as the official ingredient sponsor of the event. The retailer will showcase celebrity chefs preparing recipes at the Whole Foods Market Kitchen. Customers will then be able to order the ingredients on-demand via Quiqup's app or web platform.

All new customers receive £10 off their first order by using the code: LIVEWELL.