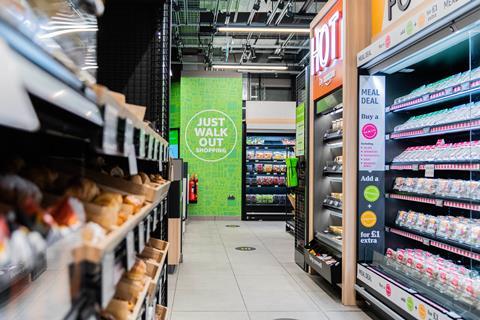 Amazon first entered the UK grocery market in 2016 but has substantially expanded its offering over the past year – eliminating delivery charges for Prime members and expanding its partnership with Morrisons to most major cities. However, Amazon's market share remains small – about 3% of the online grocery market compared with 14% by Ocado and over 30% for Tesco [Mintel].
Despite its relatively small market share, retailers and brands should be wary before writing off the threat the company poses to established business models. A recent survey by Pattern found that 42% of UK consumers are now willing to buy groceries from Amazon. Compared with the established supermarkets, Amazon has a number of advantages that mean it is likely to see significant growth over the next few years. Previously, Amazon was only an online player, but its kioskless Amazon Fresh store may evidence bigger ambitions.
How could the opening of an Amazon Fresh store present any real threat to established supermarkets? The answer lies in Amazon's culture of using data to test and learn at a rapid pace. This means it is able to build up sophisticated, data-driven models of customer behaviour. With billions in capital, Amazon can afford to run experiments on any scale. For example, in 2014, Amazon tested two-hour grocery delivery in New York City – not because it wanted to expand its grocery business, but to get better at same-day delivery. Three years later, two-hour delivery was a standard across a broad set of categories in many US cities.
It's imperative for brands and retailers to prepare for Amazon to take a bigger role in online grocery: early investments will put brands at an advantage over others who chose to wait until it has a larger share. Amazon is a fertile ground for testing new products and experimenting with different kinds of packaging suited for online delivery. Whether a brand chooses to sell directly to Amazon, or sell directly to consumers, the learning opportunities are invaluable. In a world in which consumer habits are being reformed, ensuring brands are available wherever customers choose to shop is vital. For an ever-increasing number of shoppers, that is likely to be Amazon.
Amazon also has unique capabilities when it comes to delivery and logistics. In many ways it has been responsible for establishing customer expectations for online delivery services. Almost half of UK shoppers have access to Amazon Prime, which offers next-day, free-at-the-point-of-use delivery. These expectations are difficult and costly to meet when dealing with perishable grocery items. In the low-margin world of grocery retail these additional costs leave many supermarkets making a loss on online orders.
Supermarkets consequently have two alternatives – invest in automation or raise delivery fees. In both scenarios Amazon has significant advantages. The scale and efficiency of its logistics operations are likely to provide it with a competitive advantage in driving down costs, while at the same time its huge cash reserves enable it to absorb losses on delivery for longer than the traditional supermarkets.