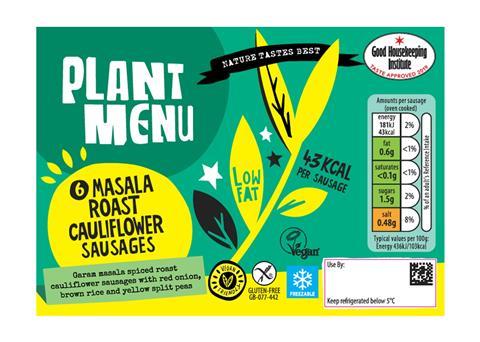 Aldi has revamped its flagship vegan brand for the second time this year in a bid to make it "more inclusive" to shoppers.

The discounter will replace its I Am Vegan brand, which launched in July and superseded its Meat Free Butcher brand, with a new Plant Menu range.

Rolling out this month, the new own-label brand would consist of 20 products initially, Aldi said, with four of them rebadged.

While sales of I Am Vegan were described as "good", Aldi had rebranded the range in order to appeal to both vegan and non-vegan customers, a spokeswoman added.

Products available at launch will include masala roast cauliflower sausages and a red pepper and mango curry.

Aldi's Plant Menu range will join the discounter's biggest-ever vegan Christmas lineup. It has gone big on plant-based party food with products such as vegan parcels made with dairy-free pastry, and world food-inspired mini treats like gyoza and mock-duck rolls.

Aldi's move away from an explicitly vegan brand brings it into line with more successful vegan ranges, including the award-winning M&S Plant Kitchen range, which launched in January with 60 lines.

Plant Kitchen's current household penetration stands at 2% [Kantar 12 w/e 3 November], significantly higher than rivals such as Tesco's Wicked Kitchen, Morrisons' V Taste, and Sainsbury's Love Your Veg.

Tesco launched a second vegan range called Plant Chef in September.

Sainsbury's will launch 31 lines under a new Plant Pioneers brand on New Year's Day.

M&S, Asda and Waitrose are all expected to launch further vegan products in early January to coincide with Veganuary.