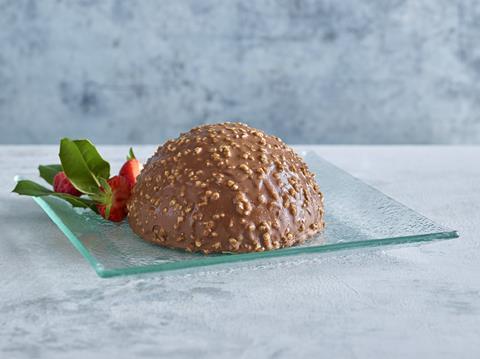 Aldi is bringing a Ferrero Rocher-inspired dessert to stores this Christmas.
The limited-edition Specially Selected Chocolate & Praline Dome will land in the frozen section of Aldi stores on 26 October.
Although unaffiliated with the original Ferrero Rocher, this dessert is a recreation of the truffle in a much larger dessert form, the dome is filled with a milk chocolate and hazelnut mousse, milk chocolate feuilletine, cocoa sponge cake and covered shell.
Aldi is having these frozen desserts made by a supplier in France. It defrosts and is ready for the table within an hour.
The giant dessert is joined by a Chocolate & Salted Caramel Layered Bar from the same supplier, which has a dark chocolate and hazelnut mousse with a praline feuilletine, a salted butter caramel mousse covered with a chocolate biscuit and dark chocolate shell.
"No one knows exactly how the situation will have changed by December but one thing we're sure of is that Christmas won't be cancelled," said an Aldi spokeswoman.
"What we're going through now and have been through, means people are going to be even more focused on celebrating with their household, sharing food and drink and gifts with their families, and that's where Aldi comes in."
You can find our pick of the Aldi Christmas 2020 range here.