After many consumers were forced to scale down their festivities last year, Aldi is celebrating a return to larger Christmas gatherings with bulked-up ranges, decadent flavours and high-quality produce at accessible prices. It is also putting a focus on provenance by celebrating British artisan suppliers.
The offering includes Aldi's largest-ever vegan range, a dozen new cheeses from heritage cheesemakers, plus its first organic turkey and Exquisite tier dessert. Its meat and fish (bar its Atlantic lobster tails) are also 100% British. Here are some highlights from the range.
Aldi has not yet provided rsps for its Christmas range
Party food & starters
Specially Selected Exquisite Pâté Ingot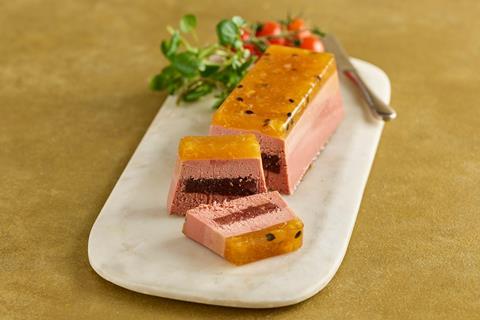 This rich, multi-layered pâté features tiers of smooth British chicken and duck liver parfaits, a hidden cranberry centre and a topping of boozy passionfruit & clementine jelly. The jelly is laced with Galloway gin, sourced locally to where the pâté is produced in Scotland.
Specially Selected Pigs in Beds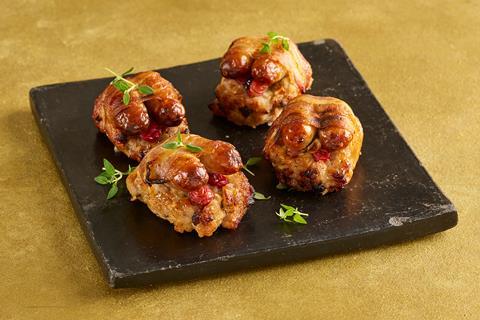 Forget blankets: Aldi's pigs have got even cosier this Christmas. These pork 'piglets' are tucked up in a bed made from apple & honey sausagemeat stuffing, with cranberry pillows and a smoked streaky bacon duvet.
Mini Chicken Sliders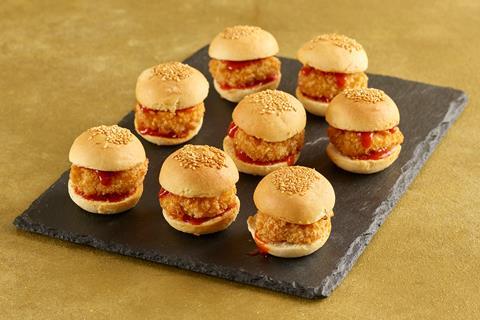 Chicken burgers, but make them tiny. Aldi's party food range features two flavours of handmade chicken sliders, comprising breaded chicken breast pieces in mini sesame seeded buns. The first is topped with katsu sauce, while the second is a spicy variant that 'the Colonel' himself would be proud of, according to the discounter.
Let's Party Tear & Share Garlic Doughball Tree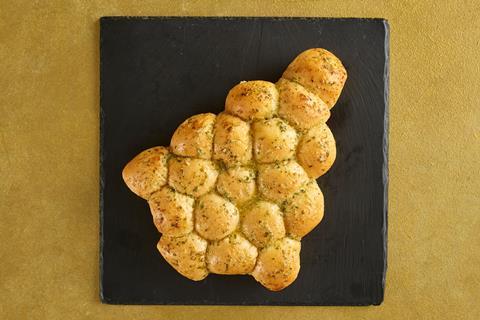 Christmas is a time for sharing, and consumers can do just that with Aldi's festive garlic doughball tree. The tear & share bread has been assembled and finished with a garlic topping by hand.
Meat
Specially Selected Exquisite Game Box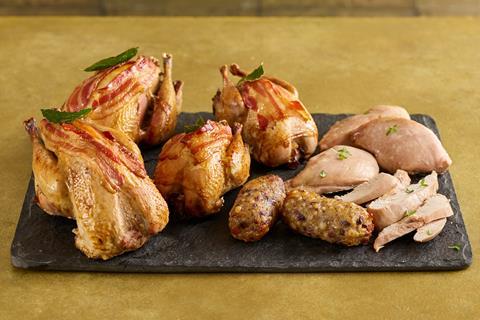 Sourced from some of the "finest estates in the UK" including Blenheim Palace, Aldi's Exquisite Game Box features a brace of garnished partridge, four pheasant breasts and two rolls of pork & cranberry stuffing. It is the first time the birds have appeared on shelves at Aldi, which is upping its game offer this year. Other new game additions include stags in quilts (a venison version of pigs in blankets) and a British venison joint.
Specially Selected Partridge in a Pear Tree Wellingtons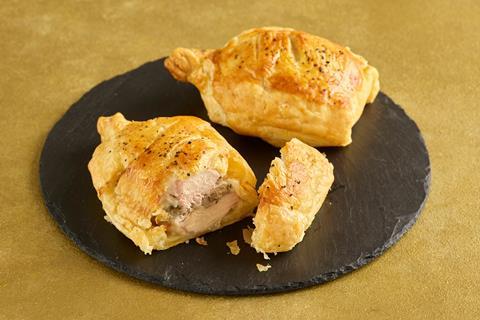 Another game addition to Aldi's Christmas meat range are these partridge wellingtons. The parcels feature British partridge and pork & pear stuffing encased in golden shortcrust pastry.
Specially Selected Perfect British Duck Duo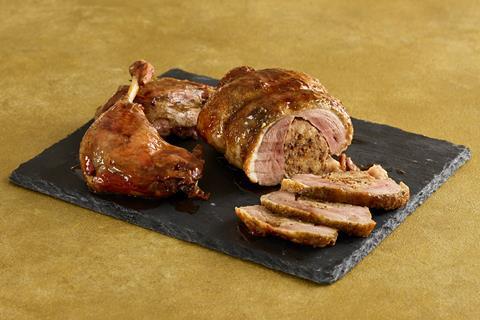 Consumers looking for an unconventional meal centre this Christmas may be tempted by Aldi's British duck duo. The product features a boneless duck breast joint encasing gluten-free stuffing, alongside a pair of slow-cooked confit duck legs and a port & plum glaze.
Desserts
After Dinner Mint Bar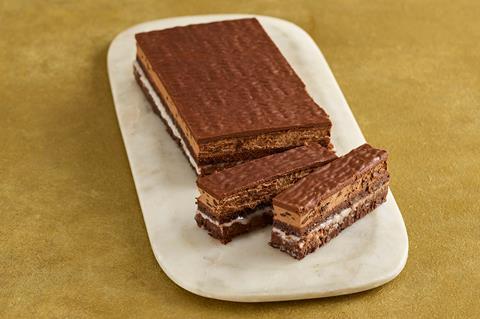 Last Christmas, Aldi grabbed headlines with its giant Ferrero Rocher dessert, which will be returning to shelves this year. Now, the discounter is hoping to get shoppers talking again with its After Dinner Mint Bar, inspired by a famous minty confectionery. Continuing this theme will be a Specially Selected After Dinner Mint Cheesecake, which features a chocolate biscuit base topped with vanilla cheesecake filling, a dark chocolate and peppermint flood and Belgian white chocolate and peppermint crunch.
Specially Selected Honeycomb Chocolate Cracker Cake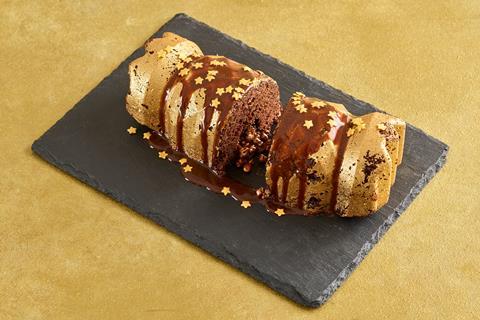 To add some extra sparkle to Christmas this year, Aldi will be finishing many of its desserts and sweet treats with a touch of gold lustre. This Honeycomb Chocolate Cracker Cake is no exception, featuring edible sugar stars as well as a shimmer of gold. The cake itself is a moist Belgian chocolate sponge with a hidden honeycomb centre, topped with a sticky Belgian chocolate sauce.
Pavlova Towers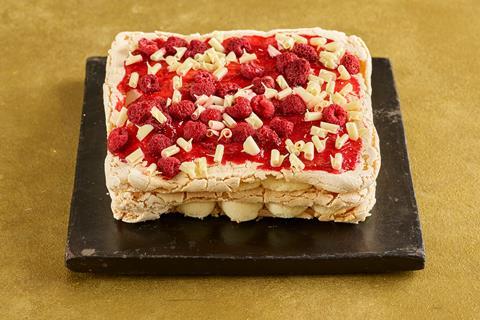 Sweet-toothed shoppers have two Pavlova Towers to choose from in Aldi's festive pudding range. The first of the layered meringue desserts features elements of white chocolate and raspberry, while the second is loaded with salted caramel sauce, biscuit crumb and milk chocolate to emulate a millionaire's shortbread.
Figgy Pudding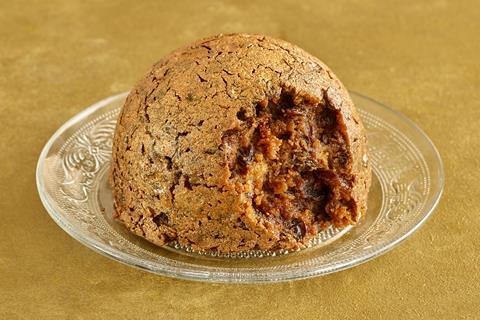 For fans of the traditional, this boozy Figgy Pudding is packed with vine fruits, candied diced figs, white rum, almonds and walnuts. But the dessert is not without its festive twist: it has a hidden rum and toffee sauce centre and a coating of gold glitter.
Specially Selected Christmas Trees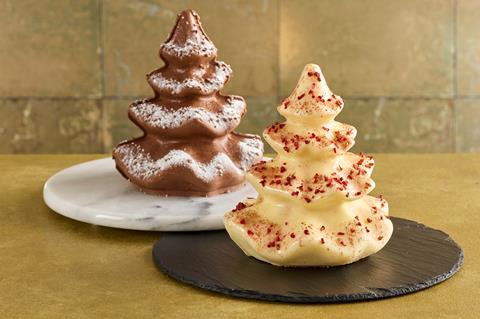 Described by Aldi as "the ultimate show-stopper dessert", these Christmas tree desserts are available in Raspberry & White Chocolate and Black Forest. In their respective flavour profiles, both trees feature a silky mousse, crunchy fuillantine and a coating of chocolate.
Specially Selected Choux Rings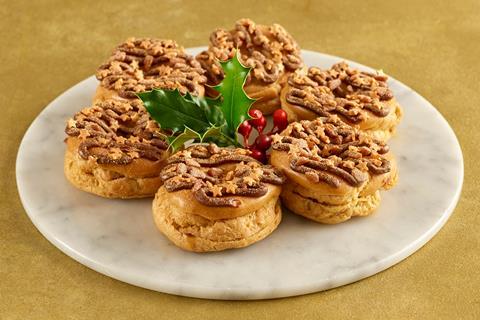 You've heard of five gold rings. Now Aldi is offering packs of five choux rings, each filled with chocolate mousse and topped with toffee sauce, hand-piped Belgian chocolate ganache, gold stars and glitter.
Cheese
Wensleydale Truckles
Joining Aldi's wax-wrapped truckle range this year are two "creamy" Wensleydale additions infused with booze. A Raspberry & Pink Gin variant balances the "natural sweetness" of raspberry with a hint of juniper, while Spiced Rum & Honey offers "warming" notes of Jamaican rum, cinnamon and nutmeg.
Baking Camembert with Sprout Pesto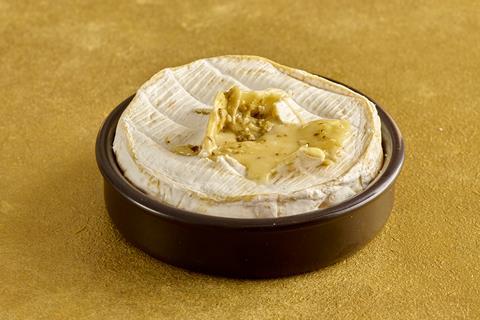 How to make a yuletide staple like camembert even more festive? Add a pesto made from sprouts, of course. Aldi says its "unique" basil-based pesto is perfect for giving the cheese a "quirky Christmas twist".
Espresso Martini Wensleydale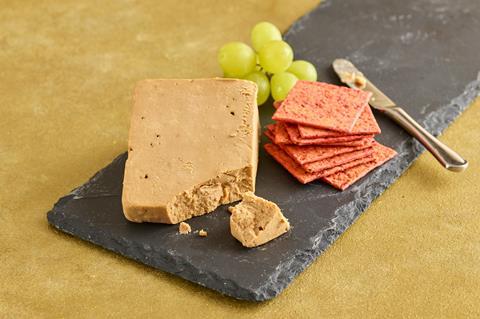 According to Aldi's cheese buyer, this cocktail-inspired cheese is the discounter's most alcoholic to date. Described as "a delicious after-dinner cheese", the Espresso Martini Wensleydale is infused with coffee liqueur and vodka, just like the popular tipple.