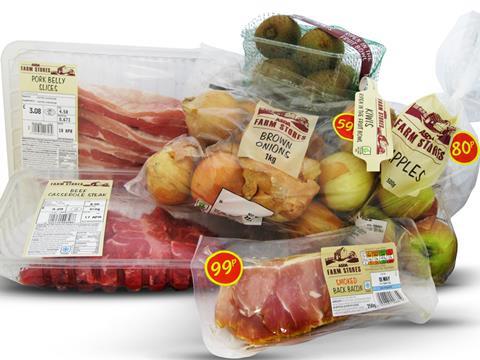 Dave Lewis released a five-minute video today where he described Tesco's results as a "fantastic performance" three times.
Relatively speaking, it was. Inflation helped them to their first round of sales growth in seven years and although pre-tax profits fell 28.2%, from £202m to £145m, Lewis focused on his operating profit of £1.2bn, up 30% on last year (but still way down on the £4.2bn it recorded in 2012).
We also got an update on the performance of the Tesco Farms range, which launched a year ago and has subsequently proved the old adage that one of the secrets to any successful con trick is to flatter your victim.
Whoa! It's not a con, is it? It's just clever branding. An actual old lady called Aunt Bessie didn't make that packet of frozen Yorkshire puddings in your freezer, did she? Don't be so naïve – it's just marketing.
Alternatively, rebranding Everyday Value to Tesco Farms introduced a step change in terms of presentation and the perception of provenance while packaging up the same product as before, sweet-talking customers into thinking they were getting a better deal for the same price.
For instance, Tesco's previously bogstandard Everyday Value bacon became Woodside Farms – Butcher's Quality bacon. So is 'con' a strong word? Ask your local butcher.
The debate flared up again today after Asda launched a superficially similar strategy by phasing out its outdated Smart Price budget tier by launching 16 Farm Stores meat, fruit & veg lines.
This brought swift condemnation from the Soil Association ("Disgraceful") and a warning from the NFU ("With Asda now using the term 'farm' within its branding, it is imperative that the origin of these products is clear to customers.").
But although similar, there are subtle differences between the two approaches.
The Asda Farm Stores logo is singular and used across a range of products, from pork belly to kiwi fruit, whereas Tesco splits the Tesco Farms umbrella brand into sub-brands that are given homely place names like Boswell Farms. You can almost picture Farmer Boswell leaning over a fence while a cow moos lazily in the distance and a truck filled with nervous pigs trundles off to the abattoir.
Asda can also claim a historical link with the logo – it went by the name Associated Dairies & Farm Stores in 1949. And it subsequently used the Farm Stores logo on various products until it axed it in 2000 (replacing it with the outdated and tacky Smart Price brand).
Still, Asda knows what it's doing by returning the magic 'Farm' word. Kudos to the bright spark at Asda who spotted the potential of bringing it back.
Whether you think the practice of inventing fictional farms is shady or not, it's interesting it took Asda (and Tesco) as long as it did to copy what Aldi and Lidl have been doing for ages with their own fake Wood Farm and Oaklands ranges, considering the dents they were making in their fresh sales.
Both are good moves to regain lost ground in this evolving market. And in the midst of the fake farm debate one fact appears to be true: most supermarket customers simply do not care. For every customer that does scan the small print on a bag of apples, a hundred more are slinging a bag of apples in a trolley without stopping. And if the customer doesn't care, does it matter?
"Particularly pleasing has been the launch of our Farms brands about a year ago," said Tesco chief customer officer Jason Tarry this morning. "Two thirds (64%) of customers' baskets contain a Farms brand."
I don't know how many Tesco customers were buying Everyday Value, and Tesco didn't have the statistic to hand, but it's unlikely it was as many as 64%. So whether you think it's a con trick or a clever strategy, you'd have to agree it's an effective one – and a big contributor to a relatively good day for Tesco.