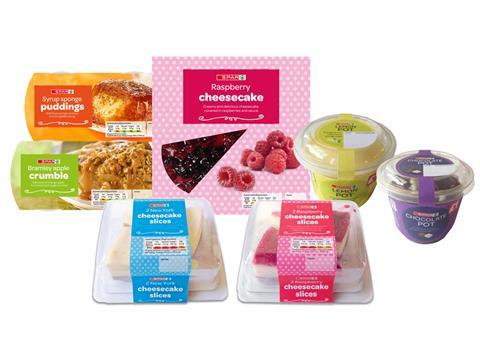 Spar has added seven own-brand desserts to its range.
The symbol group has added a range of five new chilled single-serve, twin pots and larger sharing desserts including Raspberry Cheesecake 400g (£2.80), New York Cheesecake slices 2 x 95g (£2.40), and Raspberry Cheesecake slices 2 x 95g (£2.40). It has also launched two price-marked chocolate and lemon potted desserts at £1 each. The range is available to Spar retailers from today.
Spar is also adding two hot puddings in October: Twin Pack Apple Crumble and Syrup Sponge, both at £1.85.
"We've launched all these desserts in the top-selling flavours in the market, in a variety of different sizes and formats, to appeal to what shoppers are looking for in the desserts category," said Spar IL brand director Susan Darbyshire.
"With quality ingredients from the UK, on offer at competitive prices and packaged in a modern look and feel, these desserts provide shoppers with a credible range to choose from," she said.
The new desserts would generate an estimated £1.6m in sales for the symbol group, Spar claimed.