Waitrose is already gearing up for the holiday season. Here's a sneak peek at its Christmas range for 2023, featuring more than 140 new products.
From shimmering salmon mousse to the social media-driven cinnamon 'bunettone', Waitrose aims to provide customers with an elevated festive experience to put the whole extended family to shame. The range includes buffet bites and Christmas grazing board options like smoked salmon éclairs, feta popcorn with hot honey and chorizo whirls; all the way to cute dessert characters like a jolly version of its Jack Russell cake and a new festive friend in Merry the Mince Pie.
"We know our customers spread their festive celebrations across a number of weeks – it's no longer just about the big Christmas Day lunch," says Waitrose executive chef Martyn Lee. "Our team has worked hard to develop showstopper mains that tick all the boxes for every occasion."
Browse a few standouts from the upcoming range of centrepieces, sides, party food, food to go, vegan options, and even save room for desserts – Christmas 2023 is here
Mains and sides:
Old Fashioned Glazed Ham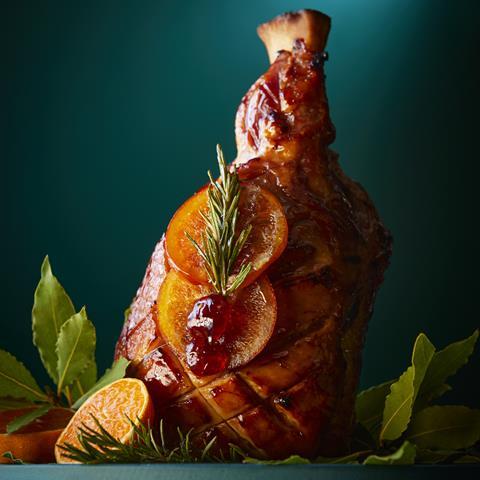 £40/2kg
Inspired by the classic cocktail, this bone-in ham is hand-scored and dry-cured with demerara sugar in a 'sugar pit' style borrowed from the US barbecue tradition. Served with candied orange slices, smoke-flavoured cherries and a whisky and orange glaze to brush on at home before serving.
Mini Pork Stuffing Panettone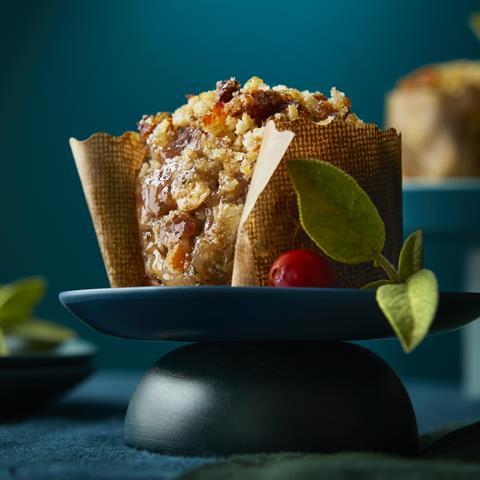 £TBC/200g
Outdoor-bred British pork sausagemeat laced with panettone crumb, raisins, lemon, cherries, sultanas and caramelised orange zest for a classic panettone flavour.
Melting Sage & Onion Stuffing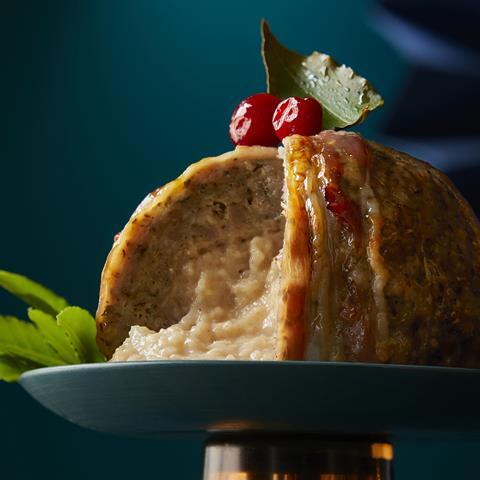 £TBC/500g
Outdoor-bred British pork sausagemeat with herby sage and onion and an oozy centre of bread sauce.
Plant-based:
Fruity Stuffing Christmas Trees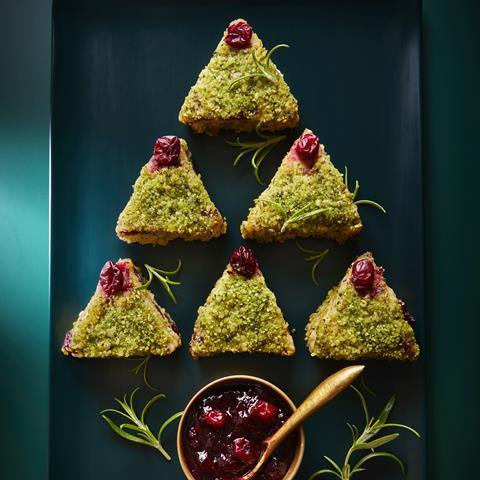 £2.50/233g
Plant-based stuffing bites made with apricot and topped with a cranberry. Serve on the Christmas dinner plate or as part of a buffet.
No.1 Ultimate Plant-based Festive Wellington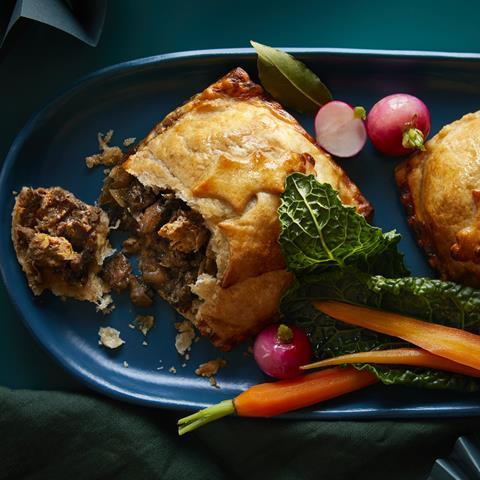 £7/400g
A mix of mushroom duxelle with 'no beef' plant-based beef braised in a shallot, garlic and thyme vegetable stock – with a hand-finished pastry holly decoration.
No.1 Ultimate Triple Nut Roast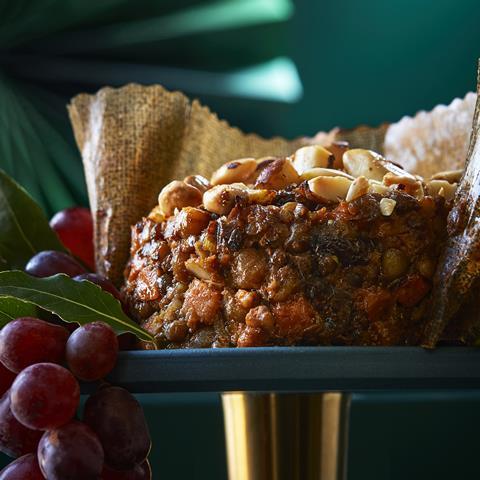 £7/500g
With vegetables, pulses, chopped walnuts, citrus zest and just a touch of miso for a deep umami flavour – hand-finished with almonds and brazil nuts, and glazed with a spiced clementine and apricot chutney.
Party food:
Shimmering Salmon Mousse
£7/300g or £15/600g
Scottish smoked and poached salmon mousse with a shimmering bronze lustre finish. Available from Waitrose Entertaining as a sharing mousse which serves eight, or in store as individual servings to serve four.
Smoked Salmon Eclairs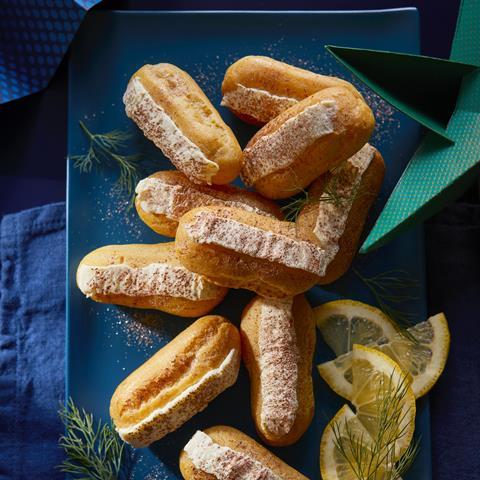 £7/130g
Mini choux pastry éclairs filled with smoked and poached salmon, crème fraîche, soft cheese, single cream and butter, with a squeeze of lemon juice and a scattering of chives. Finished with a topping of soft cheese and a bronze lustre.
Feta Popcorn with Hot Honey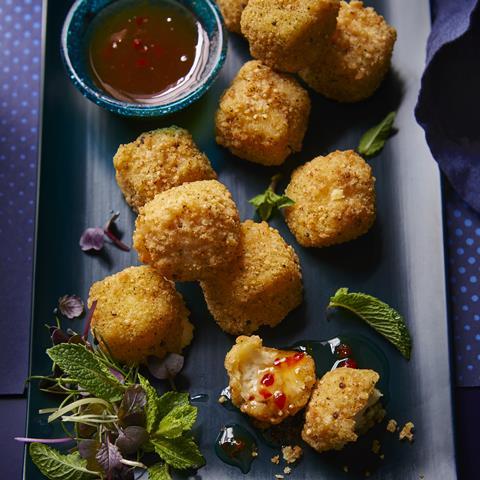 £5/200g
Bite-sized balls of feta, blended with soft cheese and goats cheese and coated with a quinoa-flecked crumb. Serve with the hot honey dip and pair with fresh figs.
Chorizo Whirls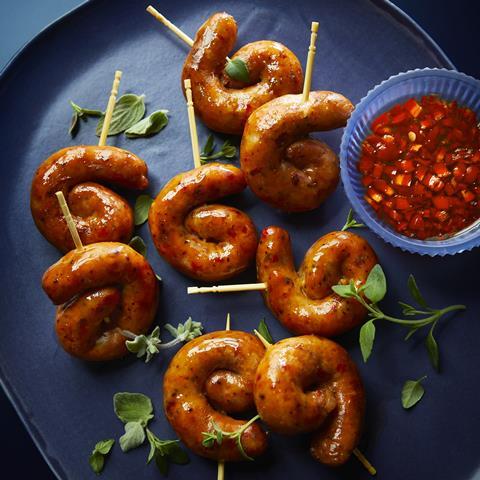 £5/200g
Pork sausagemeat whirled with spicy chorizo on cocktail sticks.
Desserts and chocolate:
Jolly Jack Russell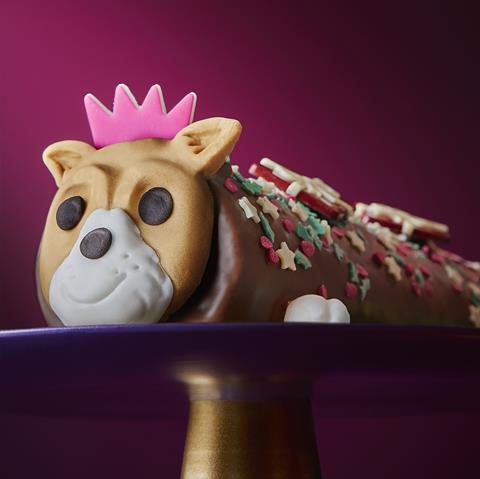 £8.50
Made from chocolate cake rolled with chocolate buttercream, finished with a milk chocolate 'coat' and sweet decorations.
Cinnamon Bunettone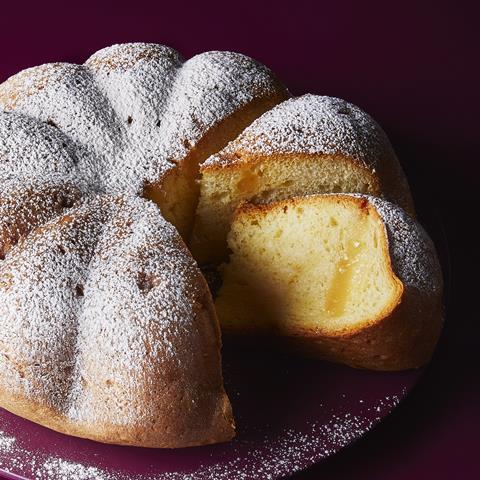 £8/500g
Panettone meets cinnamon bun – a light cinnamon-spiced Italian cake with pockets of sweet mascarpone sauce. It's served with a sachet of cinnamon icing sugar to finish. Made in a family-run bakery in Piedmont, Italy, taking over 24 hours to create.
No.1 Golden Bûche De Noël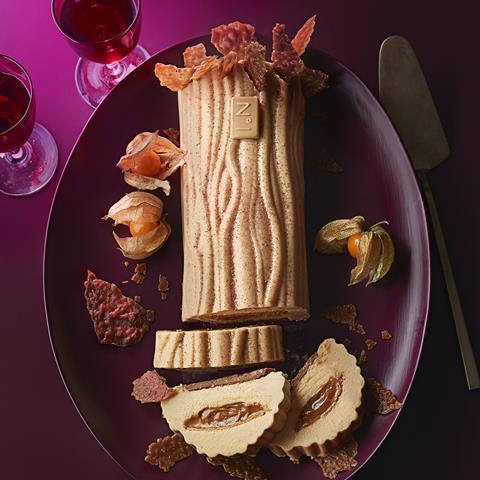 £20/800g
A take on the classic French patissierie Bûche de Noël, with layers of rich blonde chocolate mousse and silky salted caramel and caramelised biscuit sauce, on a milk chocolate base speckled with crunchy caramelised biscuit. Hand-finished with a shimmering golden lustre, it comes with a sachet of sugar to make into caramel bark.
Merry the Mince Pie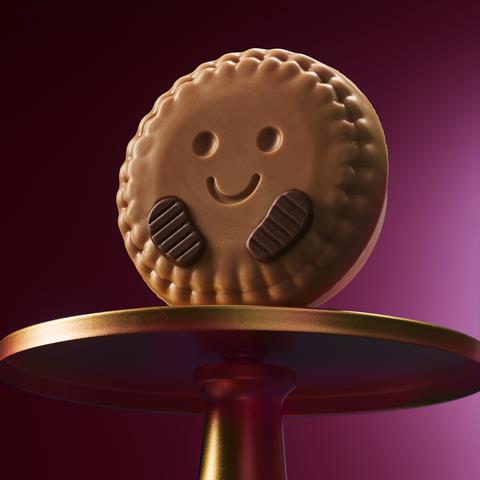 £5/100g
'Merry' is made from hollow white chocolate with a touch of milk chocolate. Waitrose cites it as "smooth, sweet and rather fond of mischief" – perhaps a new Christmas advert star to challenge Aldi's Kevin the Carrot?
Panettone Chocolates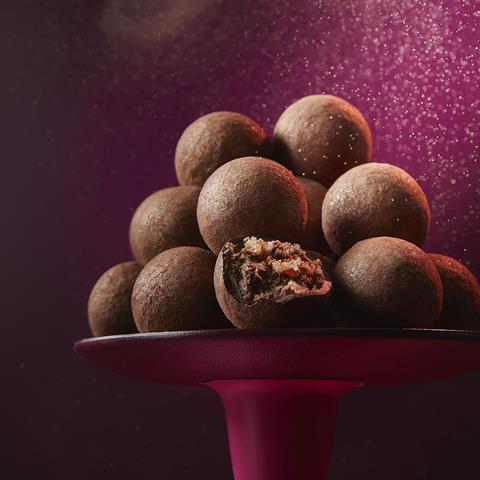 £6/150g
Real Italian panettone mixed into smooth milk chocolate and given a shimmering lustre in indulgent panettone truffles. With tangy orange peel for extra fruitiness.
Winter Village Chocolate Box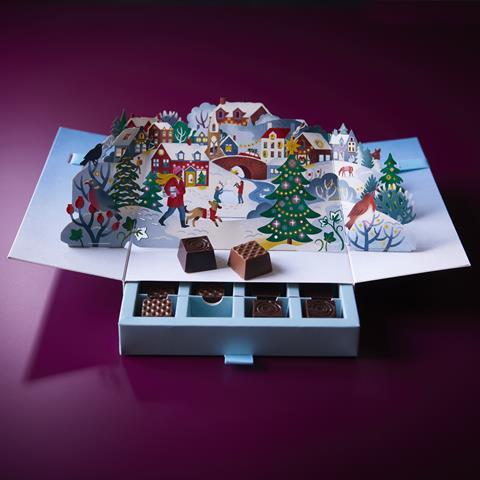 £15/158g
A 3D centrepiece with hidden drawers holding dark chocolate ganache made with Valencia orange, and milk chocolate salted caramels.
Food to go:
Ham & Festive Slaw Sandwich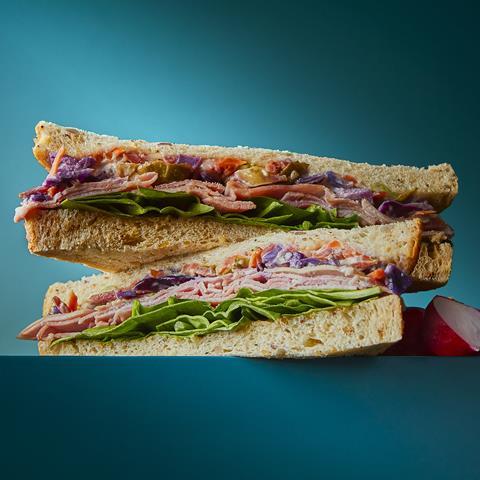 £4.75
Savoury glazed ham with orange and whiskey marmalade chutney, spinach and a crunchy sprout slaw on bread made with a mix of grains and seeds.
Salt Beet & Emmental Sandwich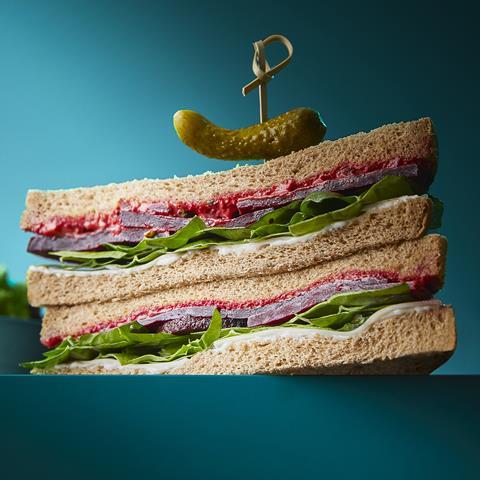 £3.75
Dark rye bread filled with sweet roasted spiced beetroot, mustard mayonnaise, gherkins, spinach and sliced emmental cheese.
Vegan Bubble & Squeak Sandwich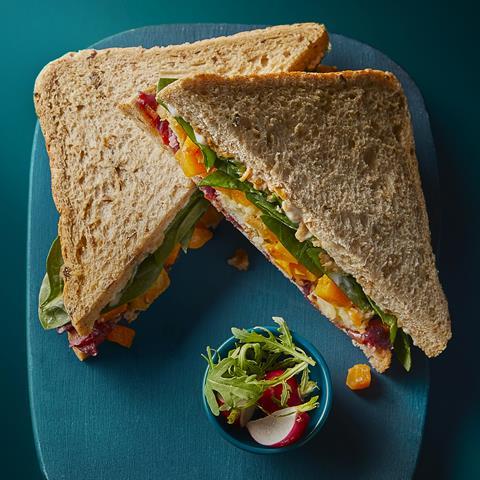 £3.50
Crumbled bubble and squeak, roasted butternut squash, Christmas-spiced pickled red cabbage, chilli jam, vegan mayonnaise, crispy fried onions and spinach, all in malted bread.