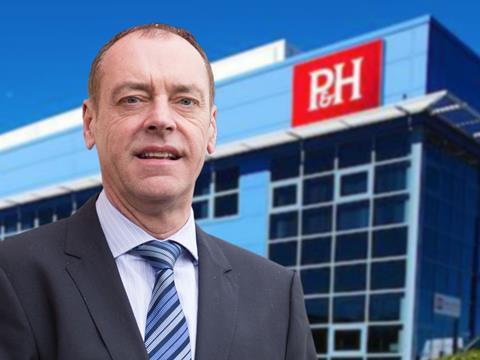 Palmer & Harvey CEO Tony Reed issued an emotional apology after the wholesaler went into administration this week.

In an exclusive interview with The Grocer, Reed said he was "dreadfully sorry" to all the stakeholders in the wholesaler that he had been unable to save the business, despite working "24/7" since he joined in October 2016.

"I want to say sorry. I didn't join Palmer & Harvey to then have 4,500 loyal and hard-working colleagues lose their jobs. Or for suppliers to lose hundreds of millions of pounds. Or to cause chaos in the customer base.

"We've not done a good enough job for them, particularly in the past six months, with one in six deliveries short, and we've now forced thousands of independent retailers to make alternative plans.

"The banks lent us the money in good faith, The credit insurers lost a lot of money. And the shareholders in what was a privately owned company. I'm dreadfully sorry."
"I want to say sorry. I didn't join Palmer & Harvey to then have 4,500 loyal and hard-working colleagues lose their jobs"
Administrators were called in on Tuesday morning after the wholesaler ran out of cash after failing to strike a deal with Carlyle - which was in a period of exclusivity - as it emerged that Costcutter had served notice last week.

With the loss of the £500m Costcutter business in addition to the £350m McColl's contract, "whatever page you turned, in terms of low-hanging fruit, it kept adding up to £100m," Reed explained of the cash and capex requirements he was looking to secure.

Before Reed had even joined as chief executive in October 2016, Palmer & Harvey was heading for a £100m cash shortfall, due to "a material underperformance in the 16/17 plan" as well as one of the banks in the syndicate wanting to leave.

"And then in January my biggest customer announced the merger with our biggest competitor. And I have to say Tesco were very fair. They signed a new contract and wrote to credit insurers to provide reassurance. But clearly it's out there and stakeholders got nervous."

As trade credit facilities tightened, a "virtuous circle" linked to its £280m asset-based lending facility (in which payments are secured against stock) turned into a "vicious" one as stock levels dwindled, with P&H "having to pay almost cash on demand in some cases to buy stock".

It was "a real battle" to manage short-term cashflow issues - as "insurers quite naturally adjusted their trade credit levels and suppliers understandably did the same".

"To continue as a going concern we had to answer three questions. Was there a realistic prospect of a deal? Did we have sufficient cash liquidity? And were we doing a good enough job with our customers that it didn't destroy enterprise value? It became harder and harder every day. Sometimes there were calls at 3am. Everyone was willing to work 24/7. The team at P&H have been brilliant. Incredibly resilient. It's hard work in retail but boy do people in wholesale work hard. We went close [to going under] a couple of times. I was able to say 'It's been a long night, but on this occasion we go again. But at 7am on Tuesday we had one last go and… well, you know the rest."

Reed admitted to frustration that with seven stakeholders to manage following the refinance in March, negotiations around either a sale or refinancing "go on for ever and ever", as there are so many parties "who quite rightly want to get amongst it".

Reed also admitted it was a real struggle to balance the needs of customers with the managing cashflow, organising the refinance, and contingency planning. He added:

"I wish I had gone faster than I did. I thought I was going fast, I made lots of changes - scrapping the buyco, changing key personnel, axing the dividend - but I wish I'd gone faster. Would it have made a difference? I have no idea. A lot of recent problems were simply because we've not had enough cash."

But he refuted suggestions that he had been responsible for delays in signing the memorandums of understanding with Carlyle. "I wasn't involved. That was a matter for the banks and the tobacco companies."

And of rumours that both Sainsbury's and Nisa had come in with offers for the business, he added: "There were only two offers and neither involved Sainsbury's or Nisa."

Reed also refused to attach blame to any particular party. "It was probably an MBO too far in 2008," he said, of the final MBO at Palmer & Harvey, under the then CEO Chris Etherington.

"The shareholders took a lot of money out in the MBO, but if the business had performed it wouldn't have been a problem. Instead of generating cash and paying down the debt, it's just grown and grown as the business has underperformed for six or seven years."

Some of the contracts "weren't great", added Reed. "But that's not the shareholders' fault. And not the customers' fault. It's unfair for me to point the finger at a group of people."

Perhaps the biggest mistake was the "sub-optimal" supply deal that Palmer & Harvey struck with Costcutter. Instead of Palmer & Harvey simply supplying goods to Costcutter, the 2014 deal saw P&H give away its Mace stores, and the creation of a buyco.

"The relationship with Costcutter was a great idea. It probably started the journey of consolidation we're seeing now. But the partnership was sub-optimal. It didn't go at all well from day one. It started off as a transition over six months. Then it was four weeks. That created chaos. I experienced the fallout in my One Stop days.
And the buyco was problematic from day one. P&H lost control of the buying. It should have been a relationship of trust but to set up a buyco that was independent, the supply chain based became confused. In the end you've got three buying teams each trying to extract money from the pot. The relationship between the two companies became like a divorce. So I stopped that. And things got better [on the buying front]. But we caused Darcy and his team no end of problems with our deliveries, and I've no complaints about Costcutter."