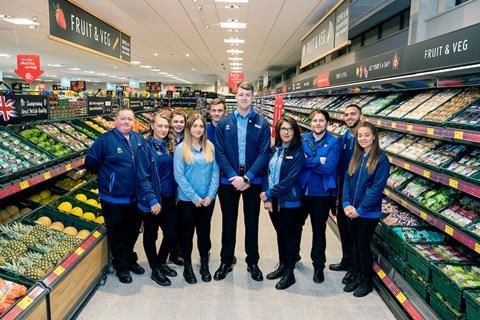 Aldi is to become the UK's top paying supermarket after announcing rises in the basic rate for store staff.
The rise will put all Aldi store employees on a minimum hourly rate of £9.40 nationally and £10.90 inside the M25, up from £9.10 and £10.55 respectively.
Sainsbury's is the current number one for pay nationwide at £9.20, but Aldi's new rate will take it off the top spot from 1 February when it comes into effect.
Aldi is already the joint top payer in London along with Lidl, both currently at £10.55, ahead of Sainsbury's £9.80.
Aldi's rise will not only put it above Lidl's current rates both inside and outside the capital, but also ahead of a raise for Lidl staff from March. That's due to take Lidl staff from £10.55 to £10.75 inside the M25 and from £9 to £9.30 elsewhere.
Aldi's pay rise also surpasses minimum recommendations from the Living Wage Foundation, which, like Lidl's new rate, are set at £10.75 in London and £9.30 elsewhere.
Aldi said it also remained one of the few supermarkets to pay staff for breaks during their shift. The benefit was stripped from Asda staff in November under new contracts which Asda claimed were aligned with industry standards.
Aldi would also recruit over 3,800 store-level staff this year as it pursued its target of 1,200 UK stores by 2025, up from the current 874, the discounter said.
"The dedication and commitment our store colleagues deliver every day when serving our customers underpins our success," said Aldi UK CEO Giles Hurley. "We have the most efficient and productive workforce, and this is why they earn the highest rates of pay in the grocery sector.
"We want to recruit the best people in retail, invest in their training and provide them with the opportunity to develop their careers with Aldi as our business grows," he added.