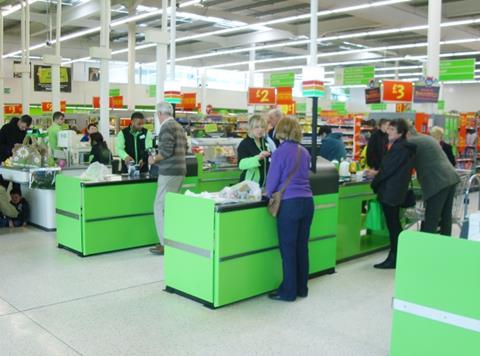 Asda is to offer 140,000 store staff a basic pay rise to £8.50 an hour in return for more flexible working, unpaid breaks and an end to bank holiday entitlements.

Under the changes hourly pay for Asda store staff will rise from £7.44 in October, though the retailer stressed it was a voluntary move and staff could remain on their existing myriad old-style contracts.

Roles will also change with staff, such as checkout workers, taking on multi-purpose job functions in store.

The changes to the contract, which will be offered to all new employees, also includes introducing standard bank holiday working requirements for all staff as well as reducing the window under which staff working nights receive a premium, though the premium itself will rise.

Asda senior vice president of people Hayley Tatum said it currently had five different types of contracts with staff, some dating back to before 2000, which were "inflexible" and not suited towards the modern shift in shopping patterns.

"This new contract is very much about giving greater flexibility," she said.

"Customers are changing their shopping habits and we need to change to reflect that. We want to do that by making our service as flexible as it can be."

Currently Asda staff have different terms and conditions depending on their contracts. These include many only having to work in certain parts of the store, such as the checkout.

"Under the new contract, staff would be able to work across the store," said Tatum.

Instead of having precisely defined roles, staff would either be part of a 'shop floor family' or 'back room family'. These multi-purpose roles could cover various functions across different parts of the supermarket.

As well as changes to the roles, there will be a big shift in working patterns. Tatum said currently many staff were contracted to only work certain times of the week, such as Friday to Sunday, and that would now be flexible across the week. Asda has vowed not to move to zero-hour contracts and promised to maintain a minimum of eight hours a week in its contract.
Bank holidays
Under the existing contracts, many Asda staff do not have to work bank holidays, but if they sign up to the new deal, workers will have to take bank holidays out of their annual holiday entitlement. If they work bank holidays, they will have those days added on to their entitlement, giving staff on the new contract a maximum of 28 days.

There are also major changes to night-time workers' contracts, with the premium paid for night work being restricted to a smaller timeframe.

Currently staff receive a premium for working between 10pm and 6am but that will now change for those who accept the contract to midnight to 5am. However, Asda said the premium itself would rise from £2.04/hour to £2.54/hour.

Asda denied it was looking to follow the lead of Tesco, which has been systematically slashing the amount of night-time hours in store and moving towards cheaper twilight operations. The contract shake-up will also involve a move to all breaks being unpaid, though Asda said all non-pay benefits - including its colleague discount, pension, sharesave and bonus - would remain unchanged, while other geographic and role premiums would remain.

Asda claimed 95% of current colleagues would be better off if they chose to move to the new contract type - some by over £1,000 a year.

All new colleagues joining Asda from today will automatically be offered the new contract type, with an increased rate of pay coming into play on 8 October.

It said colleagues who did not wish to move to the new contract would be able to remain on their current terms and conditions, and all Asda colleagues would move to the increased national living wage of £7.50/hour on 1 April 2017.

Tatum said the moves announced today meant Asda was in a "very competitive situation" with its supermarket rivals.

From April, Aldi will pay its staff £8.53/hour, Lidl £8.45/hour and Morrisons £8.20/hour.

Sainsbury's and Tesco, which have not yet announced their post-April plans, currently pay £7.36/hour and £7.39/hour respectively.

Asda said it was working with the GMB on the changes. The union was positive about the plans.

Tim Roache, GMB general secretary, said: "These new flexible contracts will help to ensure job security, ensure those accepting them are on the same terms and - best of all - ensure that people will earn more money as a result. The new contract offer involves quite a few changes, but as it's voluntary, this allows colleagues to choose whatever suits their circumstances best."