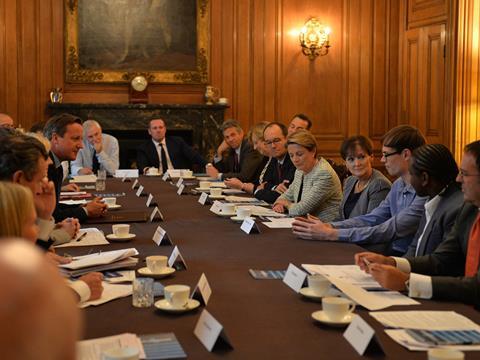 Major figures in the food and grocery industry met with the Prime Minister David Cameron at 10 Downing Street yesterday (11 September) to discuss measures to boost job prospects for young people in Britain.
CEOs in attendance included Sainsbury's Mike Coupe, Morrisons' Dalton Philips, Mars' Fiona Dawson and Nestlé's Fiona Kendrick.
The meeting was part of the industry-wide employability campaign Feeding Britain's Future (FBF), spearheaded by grocery research and training charity IGD.
"I want to make sure young people know what opportunities are out there for them, so they can develop the skills they need to get themselves into good jobs and earn a living," said Cameron.
"We have already seen record drops in youth unemployment and I am grateful for those involved with schemes like Feeding Britain's Future which have provided opportunities for training, work experience and apprenticeships and led to real career progression for young people."
Since its inception three years ago, FBF has provided opportunities for the young and unemployed nationwide including master classes and workshops to help development of skills such as CV writing and interview practice.
Around 15,000 of these free workshops will be offered throughout September, with over 200 companies having signed up to take part in FBF to date.
Food and grocery companies have also visited schools in Nottingham as part of IGD's School Pilot programme, aimed at showing students how to transfer knowledge gained through their education into the workplace.
"I attended a session myself and was overwhelmed with the positive response from pupils on how much they felt their skills could be transferred into the workplace," said Joanne Denney-Finch, chief executive of IGD.
"Encouragingly, the young people were also inspired by the range of careers available in the industry, with 70% saying they would consider a role in the sector compared to 46% before the session," she added.
After the meeting with the Prime Minister, IGD announced a major expansion to the School Pilot programme for 2015, when workshops will be provided in six regions across the UK for up to 4,000 students.
There had been speculation that the Prime Minister used the FBF meeting to lobby supermarket chiefs to weigh in on the Scottish referendum debate, after a number of retailers warned that prices would rise in an independent Scotland.