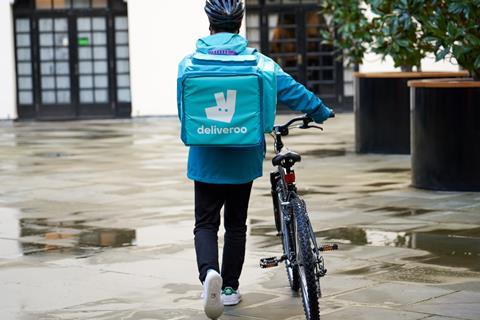 Deliveroo riders from the Independent Workers' Union of Great Britain (IWGB) will go on strike tomorrow, demanding a living wage, safety protections and basic workers' rights.
Hundreds of riders are expected to take part in the strike and join socially distanced protests in London, York, Sheffield, Reading and Wolverhampton. The union said its Riders Roovolt strike fund had raised £10,000.
Many more are expected to "strike merely by not logging on to the app" the IWGB told The Grocer.
Further action is expected by rider unions and representative groups internationally in Australia, France, the Netherlands, Ireland and Spain.
Deliveroo debuted on the London Stock Exchange last week. Shares on its first day of trading crashed as much as 30%, valuing the food delivery service at £1.2bn lower than hoped.
The disastrous debut came after concerns were raised from the City's biggest fund managers, including Legal & General and Aviva, which publicly said they would not be investing over worries about employment practices.
A damning report by The Bureau of Investigative Journalism late last month revealed many Deliveroo riders were getting paid less than minimum wage.
The IWGB has taken some credit for the poor IPO performance.
"They said it couldn't be done but by getting organised and speaking out, riders have triggered a domino effect which already slashed £3bn from Deliveroo's valuation and that should give pause to any corporation that thinks precarious workers can be endlessly exploited without consequence," said Alex Marshall, IWGB president and former bicycle courier.
"It's time for Deliveroo to do the right thing, recognise its riders as workers and treat them like human beings," he added.
Gig economy companies are under increasing legal pressure to give their riders workers' rights, following a February Supreme Court ruling that found a small group of Uber drivers had the right to be classed as workers, and so were entitled to paid holiday and at least the minimum wage.
"The impact on the gig economy including Uber Eats and Deliveroo drivers cannot be underestimated," said Spencer West partner Fudia Smartt at the time.
"We consider it likely that many in the gig economy will be able to acquire worker status, unless their employers fundamentally change their business models," she added.