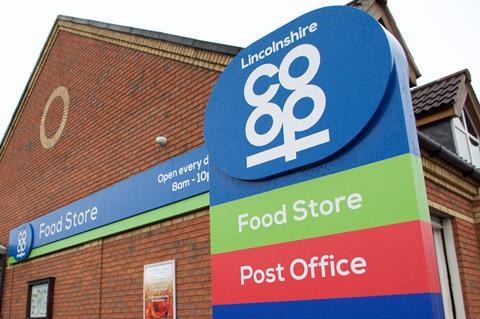 Usdaw has urged the co-op to give full pay rather than Statutory Sick Pay to those forced to stay at home

The mutual said all furloughed colleagues received the staff bonus of a week's extra wage paid to all employees in March
Lincolnshire Co-op has been accused of putting profits before staff welfare during the coronavirus crisis by shopworkers union Usdaw.
The union has urged the mutual, which employs about 2,800 staff, to end its "mean-spirited" response to furloughed and self-isolating workers by reinstating the temporarily halted staff discount and giving full pay rather than Statutory Sick Pay (SSP) to those forced to stay at home during lockdown.
Lincolnshire Co-op said in response it had three variations of the furlough scheme: those who have caring responsibilities where those arrangements have broken down, those who are shielding, and those whose work has stopped due to coronavirus.
The 90 colleagues – around half of which come from the food side of the business – offered furlough because of circumstances outside of their control are still receiving colleague discount.
Another 45 staff, mostly from the travel business and in support functions, who were offered redeployment to other roles but opted not to take them, have had the discount temporarily suspended until they return to work.
The co-op added all furloughed colleagues received the staff bonus of a week's extra wage paid to all employees in March.
"We have temporarily suspended the discount [for 45 staff] as it is designed to be a benefit for colleagues who are in the business – we'd welcome these colleagues back when they wish to return," a spokeswoman said.
Colleagues who are self-isolating because they are displaying coronavirus symptoms are paid under the Lincolnshire Co-op sick pay scheme, which varies depending on the length of service and total days of absence, from the first day off.
Staff self-isolating for a period of up to 14 days because a family member has symptoms are paid SSP or can work from home if the job allows.
Employees classed as being extremely vulnerable, with a letter from the NHS, are receiving full pay.
"Usdaw is seeking to improve the response of Lincolnshire Co-op Society to the coronavirus emergency, but regrettably we are coming up against some resistance over a number of issues," said Usdaw national officer John Gorle.
"The society is engaging in some pretty mean-spirited measures, such as removing staff discount for those who opt for furlough rather than being redeployed, paying SSP to those who are self-isolating because they live with someone who has symptoms and refusing to pay staff in the vulnerable category unless they have a letter evidencing their condition.
"We are deeply concerned the society is putting profits before public health and staff welfare. Staff should not risk the further spread of Covid-19 because they cannot afford to be off work when they should be. In the midst of a national crisis, we have to be working together to get through it and unfortunately this Co-op society is not being very co-operative."
A spokeswoman for Lincolnshire Co-op added: "We are incredibly grateful to our 3,000 colleagues. It's one of the reasons we gave all colleagues – whether furloughed or still at work – a colleague bonus equivalent to an extra week's wages in March. The vast majority of our colleagues also received a pay rise in April, ranging from 2.5% to 7%.
"The coronavirus pandemic will have an enormous impact on our economy. Lincolnshire Co-op's priority has been to safely maintain as many local jobs as possible and to do our best to protect and support our colleagues who are in work. To do that, we have to take a long-term view and offer a sustainable package of support which can be maintained. We have also talked with our unions and taken legal advice.
"We have a diverse business. Some of our outlets are still open and busy, providing desperately needed services in rural communities. However, some have closed, and others face significant challenges in terms of footfall and limits on services.
"We have introduced measures for our colleagues including an advice centre and counselling. We have invested £200,000 in PPE, social distancing and hand-sanitising equipment, and have employed an extra 250 colleagues to support our frontline teams. We've also adjusted working hours and practices across the business."
Lincolnshire Co-operative operates in Lincolnshire and the Newark and Retford areas of Nottinghamshire. It has more than 200 outlets across food, travel, funeral services, floristry and Post Offices.