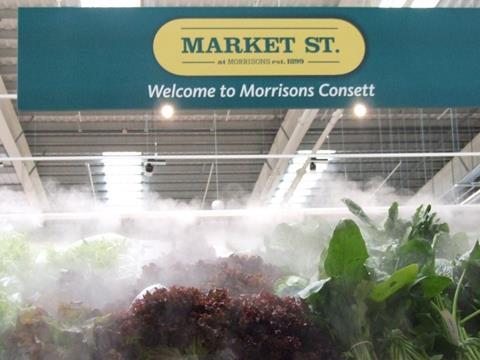 New Morrisons boss David Potts has wasted little time in asserting his authority and making his presence felt at the retailer.
Still less than two weeks into the job – he has already rolled out a new initiative to get head office staff working in-store for one week a year, conducted several store visits both expected and unannounced and dispensed with the retailer's controversial high-tech 'Intelligent Queue Management System'.
But today has been the most dramatic day of his rein yet – with the sacking of five of the retailer's most senior directors. Of course changes are expected in the management team when someone new takes the helm, but so many changes and so soon is what's most shocking about this morning's news.
Just as the misty veg machines swiftly followed the previous CEO Dalton Philips out the door, so now have some of his principal lieutenants. The Grocer understands, however, that this move is more about what Potts says it is – his desire for a "leaner management board with the aim of simplifying and speeding up the business."
We've learned that, given Morrisons has effectively pressed the pause button on its c-store division pending a review, Potts feels there is not currently a need for someone is such a senior position on the management board, hence the departure of convenience MD Nigel Robertson. Likewise, convenience was also a key part of strategy boss Gordon Mowat's role. It's unlikely that either role will be filled.
Group retail director Martyn Fletcher and logistics chief Neal Austin will probably have felt they were in the most vulnerable positions anyway. Potts, a natural retailer in his own right, comes into Morrisons with a clear brief, to turn the core supermarkets business around. These departures show he has his own ideas and wants to start with a blank slate.
More surprising was the departure of group customer marketing and digital Nick Collard. Once tipped a future CEO, Collard could be being judged on the ultimate failure of the Morrisons' tie-up with Ant & Dec to drag in shoppers in their hordes, but this would be unfair. It wasn't down to marketing that Morrisons took a beating from the discounters, but the whole in-store offer of price, availability, quality and customer service.
It's very hard to create effective advertising when you don't have the right story to tell. Collard was also instrumental in the development of Match & More, Morrisons' price-matching and loyalty scheme, which while still less than a year old, appears to have been a reasonable success.
Today's move, unlike the removal of misty veg, should therefore not be seen as a judgement on the Dalton Philips era – at the end of the day of the six members left on the management board only Martyn Jones and Potts himself are not Philips appointees. Rather this should be seen as the start of the Potts era. Based on the last two weeks, it looks set to be a very dramatic one.