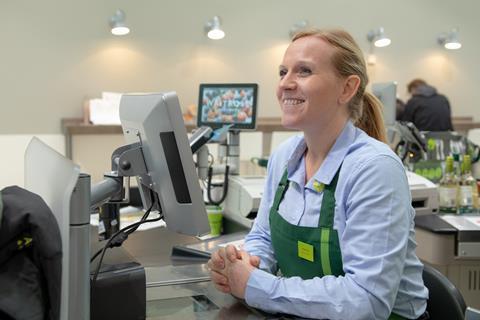 Staff will also be given a bigger discount in Waitrose shops

In a message of thanks to staff, Sharon White said it was "a privilege to be their chairman"
Frontline staff at Waitrose are in line for an extra bonus in recognition of "significant sacrifices" made during the coronavirus outbreak.
John Lewis Partnership is the latest retailer to announce a bonus for workers battling to keep supermarket shelves stocked in the face of high shopper demand.
JLP said all non-management staff and first-level managers working from 12 April will receive a recognition award of £25 for each week worked in May and June.
"The payment will apply to all frontline partners who continue to work to support the Partnership in Waitrose shops and John Lewis online," JLP added.
The bonus represents about 11% of an average full-time non-management staff's weekly pay – depending on the hours worked.
It follows the payment of a 2% annual bonus for the group's 80,000 staff in March, announced at the time of the full-year financial results. The annual bonus was cut to the lowest level in 67 years as profits at John Lewis slumped.
In addition to the new bonus for staff working during the coronavirus pandemic, staff will also get a bigger discount in Waitrose shops, rising from 15% to 25% for 13 weeks before returning to a permanently higher level of 20%.
JLP chairman Sharon White said: "Partners have made significant sacrifices to ensure we are able to continue to serve and support our customers.
"The measures we have announced today are in recognition of their hard work and commitment and are part of a wider package of support available to help partners during this extraordinary time. I want to extend my continued thanks to every partner. It is a privilege to be their chairman."