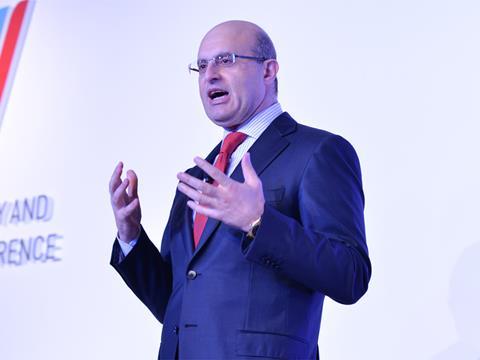 Diageo's long-serving senior director Gilbert Ghostine is to step down after 19 years with the drinks giant, sparking a number of changes in Diageo's exec team.
Ghostine, who was appointed to head up the company's key growth engines, India and China, in a shake-up of the board in March – and started the new job this month – is leaving the company at the end of September to take up a new position outside the company.
Before being appointed as chief corporate development officer and president, Diageo India and Greater China, he was made president Diageo Asia Pacific in 2009. Before that, he spent three years as managing director of Diageo Continental Europe.
Other roles included heading up Northern Europe and the US. Ghostine was also responsible for the company's relationship with Moët Hennessey, which is partly owned by Diageo.
Following the news of Ghostine's exit, Sam Fischer, currently managing director Diageo Greater China, is being promoted to the role of president, Diageo Greater China and Asia, and will join the executive committee along with Anand Kripalu, CEO United Spirits Limited (USL). Both men will report to Nick Blazquez, president, Diageo Africa and Asia Pacific.
John Kennedy, president Diageo Western Europe, has also been promoted and will take responsibility for a wider portfolio as president, Diageo Europe, Russia, Eastern Europe and Turkey.
Chief executive Ivan Menezes said the changes, which will be effective from 1 September, not only strengthened the executive team and enhanced focus on key growth markets, but signalled a "further shift of the company from an organisation based on regions to one which puts accountability in the markets".
He thanked Ghostine for his strong leadership and congratulated Fischer and Kripalu on their promotions, adding that he looked forward to seeing the further impact that Blazquez and Kennedy would have on Diageo's performance in their new, wider roles.
"In his time with Diageo, Gilbert has provided strong leadership to many areas of our business across North America, Europe, Africa, the Middle East and Asia Pacific. We wish him all the very best for the future," he said.
Mendelsohn joins
The company also appointed Facebook's Nicola Mendelsohn to its board of directors as a non-exec.
Mendelsohn, who headed up the social media company's EMEA region and focussed on increasing revenues through developing digital marketing, will join the drinks giant from 1 September, sitting on the audit, the nomination and the remuneration committees.
Diageo chairman Dr Franz Humer said Mendelsohn's senior experience at the forefront of digital marketing and communications would be of great benefit to Diageo and its brands, as the company pursued long-term profitable growth through innovation.
Prior to joining Facebook in July 2013, she was executive chairman of the Karmarama advertising agency and held senior roles at Grey Communications and BBH.
Separately, the Financial Times reported earlier this week Diageo was to write down the value of its majority stake in its troubled premium Chinese baijiu brand Shui Jing Fang, which has seen sales slump partly as a result of China's anti-bribery measures.