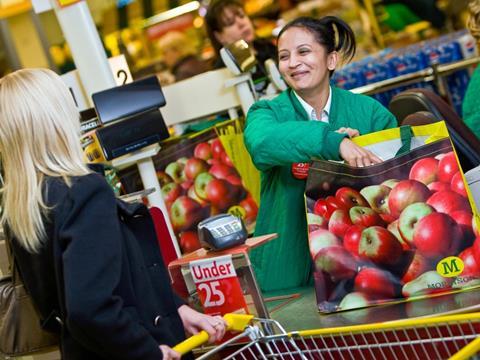 Yesterday a who's who of retail veterans was paraded in the press as potential replacements for Sir Ian Gibson as the next Morrisons chairman.
The list in The Telegraph comprised the great Asda duo of Archie Norman and Allan Leighton, former Tesco director John Gildersleeve as well Rentokil chairman John McAdams.
However Morrisons managed to surprise the City with the appointment of former Tesco finance boss Andrew Higginson. He will join the board in October as deputy chairman and chairman elect before stepping up when Gibson retires next year.
This afternoon Morrisons shares were 174.5p, up 1.3% since news of Higginson appointment, suggesting that the city approves of the move but no one is getting too excited given the task he and CEO Dalton Philips face in digging Morrisons out of its current malaise.
The scale of that task was evident in the latest grocery market share figures released by Kantar Worldpanel this morning. For the 12 weeks to 20 July Morrisons sales fell by 3.8% with its market share down from 11.5% to 11%.
For his part Higginson looks like a safe pair of hands, which Morrisons could certainly do with right now. He spent 15 years as one of Sir Terry Leahy's most trusted lieutenants during the golden years at Tesco.
He was for many a serious candidate for the top job at Tesco that eventually went to Philip Clarke (what happened to him I wonder), but interestingly his departure from Tesco in 2012 and first announced a year previously, was not greeted with much wailing and gnashing of teeth. At the time it was felt that he was easily replaceable and that seemingly endless conveyor belt of talent at Tesco would keep churning out top executives who would continue to keep the show on the road.
Tesco's subsequent toils since his departure could suggest he has been missed more that people might have first thought. Interestingly he has spent the last two years' holding various non-executive roles, not least as chairman of Poundland.
It cannot be a coincidence that Morrisons has plumped for a man with first-hand experience at a discounter as it looks to launch a fight back against the kind of budget retailers that have caused it so much pain in the last few years.
His insight could prove invaluable to Morrisons, but the question is how quickly he can bring any of his experience and expertise to bear. The Kantar figures show that sales remain under pressure and Morrisons interims in September are unlikely to bring much to cheer about.
The challenge for Higginson will be whether to show patience with the current management team and its strategy or will he have to make some extremely tough decisions.