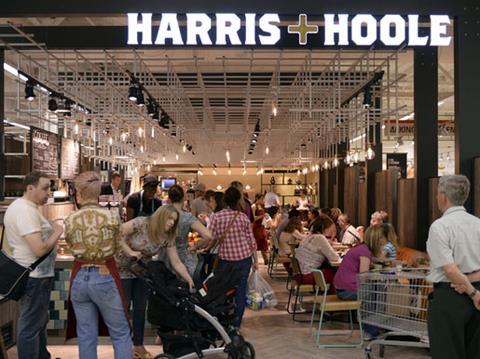 The Tolley family are stepping back from the Harris + Hoole coffee shop chain they set up in a joint venture with Tesco.
Nick Tolley, co-founder and chief executive of Harris + Hoole, said he and his siblings Laura and Andrew would be focusing on the Taylor Street Baristas business, which will launch a site in New York later this year and will begin roasting its own coffee from Q4 this year.
It was reported in the Grocer's sister title M&C that the Tolleys are seeking a buyer for their share of the business but the family insisted there has been no change in ownership at this point.
The current management team of Harris + Hoole will take day to day control of the business when the Tolleys leave at the end of this month.
Nick Tolley told M&C: "I'm incredibly proud of what Harris + Hoole has achieved in just three years, from a standing start to 46 stores and a team of more than 500 fantastic people whom I've hugely enjoyed working with.
"At the same time that Harris + Hoole has been growing, Taylor Street Baristas, the first coffee business I founded with my brother and sister, has also been going from strength to strength.
"Amongst other things, we'll be opening the first Taylor Street Baristas store in New York later this year, so it feels like the right time for me and my siblings to return to focusing on Taylor Street Baristas, leaving the excellent Harris + Hoole management team in charge.
"Our partnership with Tesco has enabled Harris + Hoole to develop a fantastic proposition for the high street and I'm very proud of where we leave the business today.
"The coffee expertise brought by my brother and others from Taylor Street Baristas has been embedded into Harris + Hoole. World class barista training and coffee made using the best seasonal beans and equipment is very much part of Harris + Hoole's DNA - and I'll certainly still be stopping by for a coffee. "
On the issue of whether the Tolleys had found a buyer for their share of the business, a spokeswoman said: "Taylor Street Baristas and Tesco acted as joint venture partners to establish Harris + Hoole nearly three years ago. Shareholding in the Joint Venture remains the same at this point in time."
She also said the growth strategy for Harris + Hoole remained the same.
A spokesperson for Tesco said: "We'd like to thank the Tolleys for all their hard work in making Harris+Hoole the popular, exciting brand it is today. We have worked successfully with Nick, Andrew, Laura and the Harris + Hoole team since investing in the business three years ago and its clear customers have come to love the service, experience and high quality coffee the brand offers. We will continue to work in partnership with the management board and look forward to the business progressing in the future."
The focus on Taylor Street will see Nick Tolley as fulltime chairman with Andrew and Laura as co-founder and head of coffee and co-founder.