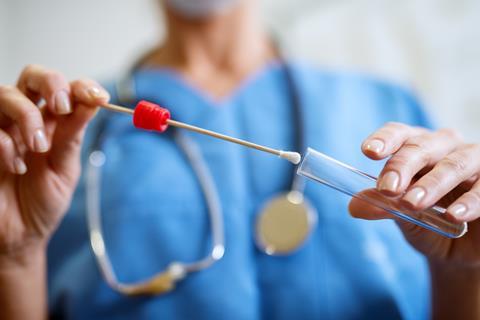 Levels of absenteeism across the grocery industry are rising again as the UK battles a second wave of coronavirus infections, The Grocer can reveal.
At the height of the initial crisis, absence levels topped 20% but were brought back down to normal levels of 5% during lockdown. This week Tesco is understood to have reported absenteeism levels of 6.5%, in industry talks with the government.
While that is still well off the levels of the March peak, the supermarket is believed to have been one of those to raise concerns retailers could be left with large numbers of staff self-isolating and unable to access a test because of problems with the testing system.
The Grocer revealed last month industry bosses were calling for prioritisation of food industry workers for tests.
Retailers fear they will be forced into a repeat of the massive recruitment exercises of the first phase unless problems are solved, with Tesco at one point having employed around 60,000 temporary staff.
Suppliers are also increasingly worried about the threat of the second wave on their workforce.
One source said: "This is a real worry for the industry. Levels had pretty much returned to normal, but they are beginning to creep up again."
FDF CEO Ian Wright said: "If the government ever gets the test and tracing system right, we might find there are literally hundreds of thousands who are asymptomatic. Do they have the potential to pass it on? That's going to have a significant impact on the whole workforce."
He added: "That's a ticking timebomb. If it happens to be in late October, November or December, I think there will be quite a lot of literal stops before the end of the year."