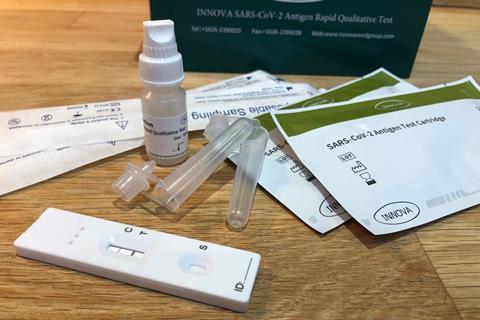 Environment secretary George Eustice has written to food companies urging them to offer twice weekly Covid testing to their staff, amid concerns many have still not taken up the government's offer of free tests.
The letter warned the industry needed to "remain vigilant" and said the testing was vital to pick up cases among asymptomatic staff.
The government also revealed it had extended free funding for the testing beyond until the end of June but only for companeis that register before the end of March.
"We now have a roadmap to open up our communities and restart our lives, but we need to remain vigilant and continue to protect our sectors and the workforce as we go forward," Eustice says in the letter.
Defra wants employers to test staff members twice every week, after the scheme was first rolled out in January and it said "more and more businesses are registering for the programme each day", despite acknowledgement that the scheme got off to a slow start.
"Staff have welcomed the security that they won't put their families at unnecessary risk in carrying home infections that could have been prevented – even after the vaccination programme is complete a significant proportion of the population will remain vulnerable to infection, some of whom will also be vulnerable to severe disease and death," added Eustice.
Read more:
The Grocer understands concerns have been raised in talks with Defra and the industry over the time involved in testing and the future costs with calls for some of the rollout to be geared towards home testing rather than testing in the workplace.
Last month The Grocer revealed Tesco had offered to pilot home testing for staff, with the government hoping it will be rolled out across all major retailers as well as suppliers.
One industry source told The Grocer there had been "confusion" about the role of testing in the government strategy, especially over a commitment to longer-term funding.
However, Eustice said: "Employers have a vital role to play in this next phase, minimising the spread of infection among those who cannot work from home by introducing regular testing for asymptomatic staff. Now is the time for employers to adopt the government's workplace testing programme, with the tests being provided free of charge."