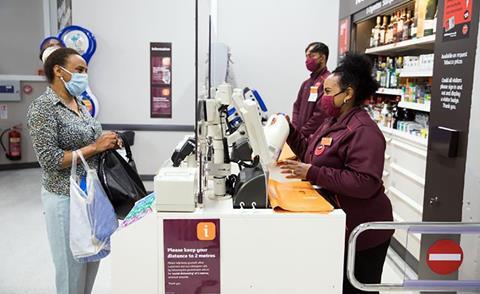 Retailers are deeply worried shopworkers will face abuse over the reintroduction of compulsory face masks in shops, and will not challenge rule flouters, the ACS has said.
It follows confirmation from Health secretary Sajid Javid at the weekend that masks will be compulsory in shops and on public transport in England from Tuesday (30 November) in response to the new Omicron coronavirus variant.
"We are helping retailers to prepare for the change in face covering rules, but they are extremely concerned about abuse against their staff from customers who don't want to wear a face covering in a shop," said ACS CEO James Lowman.
"We will continue to urge stores to communicate the rules, but not to challenge those who refuse to abide by them."
BRC CEO Helen Dickinson also expressed concern for shopworkers, saying retailers would use in-store signage to communicate the rules, but it was "vital that we do not place hardworking retail staff in harm's way".
"Enforcement of face coverings must remain the duty of the authorities," she said.
Dickinson also urged shoppers to be considerate and respect the rules.
"From tomorrow, we all have an individual responsibility to put on a face covering before entering a shop," she said.
"Retailers have worked incredibly hard to get shops and warehouses prepared for Christmas despite a variety of challenges.
"While there may be small changes in the way we shop, we ask people to be considerate and we remain confident that everyone can get what they need for a fun and festive Christmas this year."
Co-op said it would continue to serve customers not wearing a mask. "Our priority is to provide a safe shopping and working environment for our customers and colleagues and we will continue to follow official face covering guidelines from the UK government and governments in Northern Ireland, Scotland and Wales," said a spokesman.
"As throughout the pandemic, we support our customers wearing a face covering when shopping in our stores. It's not our place to enforce face coverings or to refuse to serve a customer who chooses not to wear one."
He said Co-op was awaiting more detail from the government on how the new rules would be implemented.
Iceland also said it would not 'police' the rule change.
"We fully support the reintroduction of compulsory face masks in shops, however we won't be asking our store colleagues to police those who refuse to adhere to the rules.," said Iceland MD Richard Walker.
"Our store teams, alongside all retail workers, have demonstrated heroic efforts in terms of ensuring safety for customers and working to build back consumer confidence and it's crucial that we stay focused on the long term recovery of the high street.
"We need to continue to encourage people to shop in stores if they feel comfortable and the safety of our customers and colleagues remains our priority, as it has been throughout the pandemic."
Shopworkers union Usdaw said the government should not have relaxed the rules on face masks in England in July.
"This flip-flopping on basic and sensible covid measures and the different rules across the UK create confusion, reduce compliance and can lead to conflict," said Usdaw general secretary Paddy Lillis.
"Retail staff working with the public every day are deeply worried about catching Covid-19 and the arrival of the Omicron variant is a further concern. Wearing a face covering protects others, it should not be a personal preference, but a personal responsibility.
"The government must be clear and consistent on it being mandatory and that shopworkers are not expected to enforce the law on face coverings."
A Waitrose spokeswoman said: "The safety of our customers and partners remains of paramount importance. We have continued to recommend customers and partners wear a face covering in our shops and from tomorrow, in line with government guidance, we'll be reminding them that this is a mandatory requirement unless exempt."
Aldi said it would require all customers to wear face coverings unless medically exempt.
"The safety of our colleagues and customers is our number one priority," said Aldi UK CEO Giles Hurley.
"Following the latest government announcement, wearing a face covering will be mandatory for everyone that shops at Aldi from Tuesday 30 November, except for those who have a medical exemption."
A Tesco spokeswoman said: "As we have throughout the pandemic, we are continuing to follow government guidance to ensure the safety of our customers and colleagues. From Tuesday 30 November, it is a legal requirement to wear a face covering in our stores unless exempt in line with government guidance."
Sainsbury's and Asda said they were reviewing the latest government guidance.